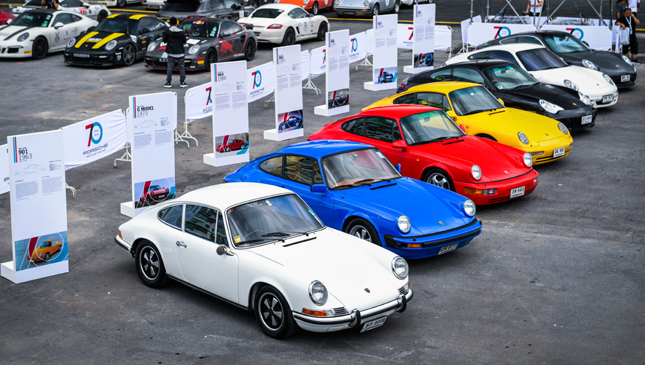 Now this is what we call a car meet. More than 300 Porsches convened at the Show DC Oasis Arena in Bangkok, Thailand a few weeks back for Sportscar Together Day 2018--a celebration of 70 years of the German carmaker's sports cars--and, judging by the photos, it was quite a gathering.
Some vehicles and owners traveled 2,000km all the way from Singapore and Malaysia just for this event, including a 1978 911SC, 1973 911 2.4 E, 1989 930 Flachbau, and 1970 911T courtesy of Porsche Club Singapore. Porsche Asia Pacific even flew in a 918 Spyder straight from Zuffenhausen, Germany, while the Porsche Museum laned the legendary 959 Paris-Dakar. The 919 Hybrid also made a stop in Bangkok for the display.
Continue reading below ↓
Recommended Videos
Porsche Works driver Earl Bamber, who drove the aforementioned 919 Hybrid to several World Endurance Championship victories last year, was in attendance, as was Porsche Asia Pacific managing director Arthur Willmann who took the gathering as an opportunity to look back at the historic brand's roots.
"Sportscar Together Day brings together the Porsche community and fans, as well as their friends and families," Willmann said. "The year 2018 marks the 70th anniversary of the brand and we want to celebrate the milestone by remembering where we came from, what we have achieved and the future that we will be embracing. Das Treffen is also proof of the dedication of the Thai people to Porsche, and we wanted to reciprocate that love by hosting our signature event here."
You can check out the vehicles that turned up to the event in the photos below. So, were you able to make the trip to Bangkok for Sportscar Together Day?