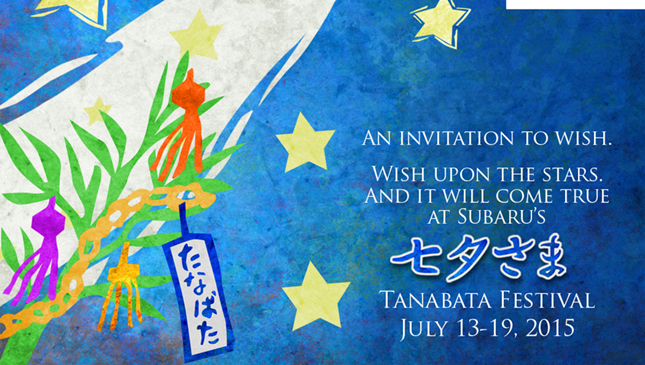 Subaru showrooms across the Philippines will be celebrating the Japanese tradition of Tanabata in appreciation of its customers from July 13 to 19. The showrooms will be decorated in a Japanese festive theme, and as an added bonus, Subaru will also be offering customers special financing schemes and deals on their favorite models during the week-long event.
The Tanabata Festival, or the "Meeting of the Seventh," traces its roots from Chinese origins and celebrates the meeting of "Orihime" and "Hikoboshi," who are represented by the stars Vega and Altair, respectively. The legend says that two lovers are separated by the Milky Way, only able to meet once a year on the seventh day of the seventh lunar month of the lunisolar calendar.
(NOTE: At this point, we want to say we've never encountered a more complicated way to explain an event.)
In Japan, locals decorate their homes with strips of paper containing their written wishes, which they hang onto bamboo branches, along with other paper ornaments. These decorated branches can be seen lining the streets of communities celebrating Tanabata. The festival is celebrated even in countries as far off as Brazil.
While you might not see any decorated bamboo branches, you can at least look forward to 0% interest rates and special giveaways for any reservations made within Subaru's week-long festival. This is Subaru's third annual Tanabata Festival here in the Philippines.
For more information on the Tanabata deals and prizes, you can visit any Subaru showroom.
ADVERTISEMENT - CONTINUE READING BELOW ↓