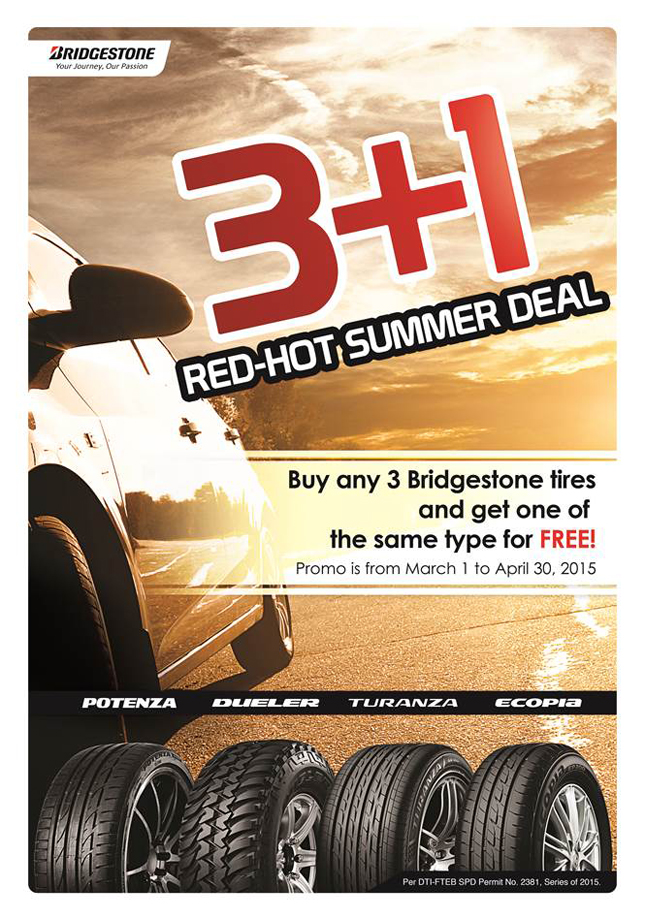 You've probably noticed that it's getting hotter during the midday and afternoon. You reach for your water bottle more often, and you turn up the car's A/C a notch when driving. There's no doubt about it: Summer is definitely on its way. And this means we're already considering various ways of escaping the hot, suffocated metropolis--in other words, road trips.
But first, we have to make sure our cars are in good working order, and that includes checking if the tires are still okay. If you feel that replacements are in order, then it's time to visit a Bridgestone dealer.
This month, Philippine Allied Enterprises Corpoation, exclusive distributor of Bridgestone tires, launches the "Red-Hot Summer Deal" promo. From March 1 until April 30, motorists who buy three Bridgestone tires can get the fourth one free. You can choose between the fuel-saving Ecopia, the off-road-capable Dueler, the track-tested Potenza, and the high-performance Turanza. This promo is available at any tire dealer that carries Bridgestone.
The Japanese tire brand takes pride in the fact that its products are safe, durable and environment-friendly. Your car and the necessary summer road trip deserve nothing less.
ADVERTISEMENT - CONTINUE READING BELOW ↓