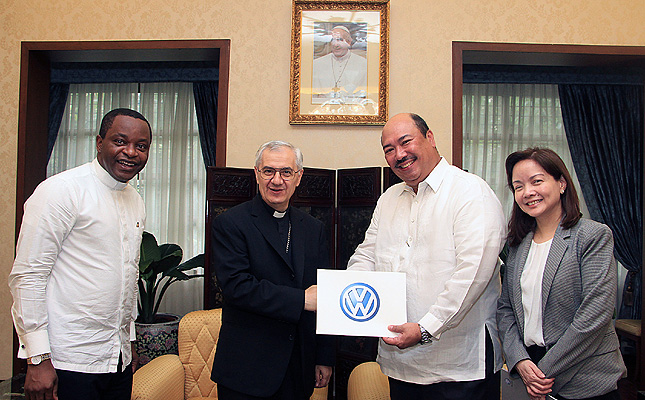 Volkswagen Philippines has officially turned over to the Philippines' Apostolic Nuncio the Touran MPV that the German carmaker's local distributor provided for Pope Francis's use during his recent visit to the country on January 15 to 19.
On hand to accept the Touran from Volkswagen Philippines president and chief executive John Philip Orbeta was Archbishop Giuseppe Pinto, the Apostolic Nuncio to the Philippines.
"It's an honor and privilege for us to become part of His Holiness's historic visit to the Philippines," said Orbeta. "Volkswagen's reputation for reliability is very much reflected in the Touran, and we are proud to donate this vehicle to the Manila Nunciature."
The Touran that bore the SCV 1 licence plate, the official registration plate of the Pope, made its debut when it shuttled Pope Francis to Malacañang Palace on January 16. The same Touran then brought the Pope to Villamor Air Base the following morning on January 17 for his flight to Tacloban City in Leyte.
The Touran was once again at the pontiff's service in the morning of January 18 as it drove him from the Apostolic Nunciature on Taft Avenue to the University of Santo Tomas, where he held morning meetings with religious leaders and more than 20,000 young people.
Continue reading below ↓
Recommended Videos