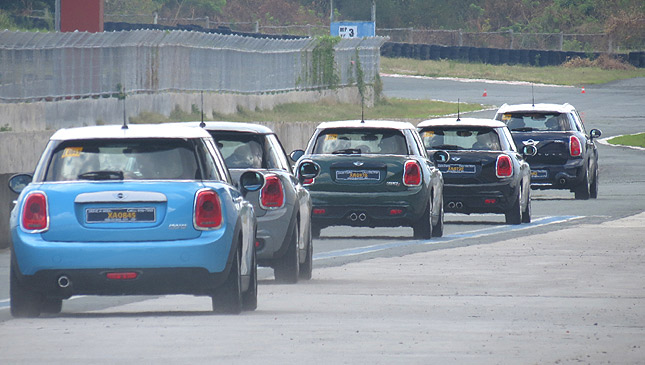 After we saw the five-door variant (F55) of the Mini Cooper and Cooper S at the 2015 Manila International Auto Show, it was time to sample it. But this wasn't just any normal test drive. Because it was a Mini, the test drive had to be extra fun and special.
Select members of the media and the Mini Car Club got a chance to sample the new five-door Mini and its more traditional three-door hardtop sibling during the Mini Track Day at Clark International Speedway. After a very brief welcome by Mini Philippines president Willy Tee Ten, veteran race car driver Georges Ramirez revealed the fun and exciting activities in store for us: lapping, slalom and Italian job.
Lapping
We all love racing simulators like Gran Turismo, but nothing beats the real thing, doing laps around an actual racetrack with a car that deserves to be driven on one. We were able to sample the new five-door (F55) Mini back-to-back with the three-door hardtop (F56) around the track with Ramirez setting the pace.
The longer five-door model handles just about as sharp and fun as its three-door sibling. I must also note that the sweet soundtrack emanating from the Cooper S's center-mounted exhaust is very addicting. If only we had more time on the track.
Continue reading below ↓
Recommended Videos
Slalom
This one sounded quite simple: Weave around those orange cones, make a U-turn, do the same thing again, and park the car in the box. This should be a piece of cake especially with an agile car like the five-door Mini.
The first round was the practice lap. Ramirez guided us around the slalom course and gave us tips on how to improve our time. The second round was our chance to implement what we learned in the first round. I finished in the lower half of the group made up mostly of Mini Car Club members. Apparently, I was too gentle with the Mini. At least no cones were harmed.
Italian job
A Countryman, a paintball gun and two targets--these were just what we needed to bring out the action stars in all of us. Named after the action-heist film, this event allowed us to test our driving skills and shooting skills (not at the same time, of course, as we worked in pairs). One half of the duo drove while the other fired the paintball guns out the window. Then we switched roles. Even if most weren't the marksman they thought they were, everyone still had a lot of fun.
The Mini Track Day was an opportunity for British United Automobiles, the official local distributor of Mini, to showcase its latest baby, and give everybody a great time.
The five-door Mini is available in two variants: Mini Cooper (P2.3 million) and Mini Cooper S (P2.8 million).
Photos by Andrew Guerrero