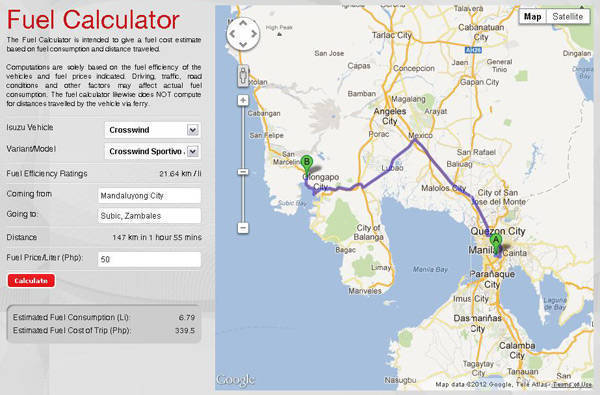 Embarking on a road trip means knowing how much fuel you need to put into your vehicle's fuel tank. If you're driving an Isuzu vehicle, estimating how much the trip will cost you has now become easier, thanks to Isuzu Philippines Corporation's (IPC) online Fuel Calculator.
Available in "The Extra Mile" section of IPC's website, the Fuel Calculator first requires you to input the following information: your specific Isuzu vehicle model and variant; the start and end points of your planned trip; and the price per liter of the fuel you intend to fill your Isuzu with. After putting in all the required information and pressing the 'Calculate' button, you're immediately rewarded with your vehicle's fuel-efficiency rating in km/L, total distance and travel time, as well as the estimated fuel cost of the one-way trip.
Though IPC's Fuel Calculator is good for getting an estimate as to the amount of fuel needed to complete the trip, the Japanese carmaker admits that other factors like the driving style, the traffic situation, and the road conditions, "may affect the actual fuel consumption."
One limitation we've discovered in IPC's Fuel Calculator is its preferred use of Google's mapping software since it automatically selects the most direct route to your destination. So, if you're going to the Subic Freeport Zone and you're coming from Manila, the Fuel Calculator will determine your estimated fuel cost--not to mention your distance and travel time--if you'll be taking the San Fernando exit and driving through the towns of Lubao, Pampanga, and Lourdes, Bataan, only to get onto the Subic-Clark-Tarlac Expressway through the Dinalupihan exit.
Continue reading below ↓
Recommended Videos
But while it's still far from perfect, this Fuel Calculator is quite useful if you at least want an estimate of your vehicle's potential fuel consumption before you go on a road trip.