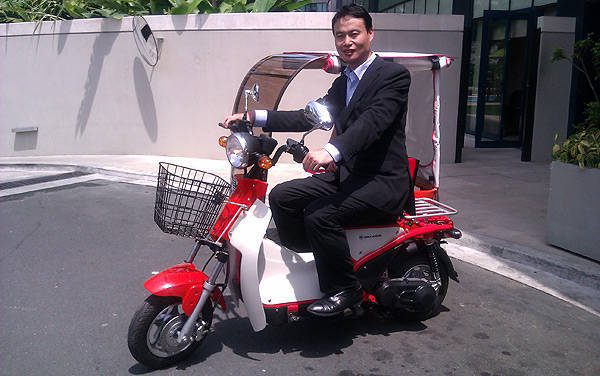 Terra Motors, Japan's leading electric scooter manufacturer, is looking to enter the Philippine market "as part of its business expansion strategy into other Asian markets," following its successful launch in Vietnam and Taiwan.
Terra Motors was established in Japan in April 2010. Two years later, it has become the number one electric scooter manufacturer in its home country, with over 3,000 units sold to capture 30 percent of the market.
Eager to build on its success in Japan, Terra Motors has now shifted its focus to the Asia-Pacific region since the region reportedly accounts for 80 percent of the world's scooter and motorcycle market.
For the Philippines, Terra Motors is looking to partner with a local investor and open up its first showroom in 2013, with an initial sales target of 10,000 units for the first year. By 2015, the company hopes to put up its own factory in the Philippines, following the factory it established in Vietnam in October 2011.
"We've already talked to some local parts manufacturers, and we can source parts like the wiring harness and tires from the Philippines," said Terra Motors chief executive Toru Tokushige. "But for the electrical drivetrain like the lithium-ion battery and control unit, we'll have to bring those in from Japan."
Continue reading below ↓
Recommended Videos
For its initial offering for the Philippine market, Terra Motors hopes to introduce the Bizmo, a single-seater, underbone electric scooter with a range of up to 60km (extendable to 100km in eco mode), a top speed of 60kph, and a standard charging time of six hours. With its rapid charger, charging takes only minutes.
Though Tokushige couldn't give a figure as to how much the Bizmo would cost in the Philippine market, he did reveal that in Japan, it costs approximately $1,500 (over P62,000).
Tokushige also shared that Terra Motors is already talking with the Asian Development Bank, with the aim of supplying the global bank's project of distributing electric tricycles to barangays and municipalities in support of green transportation alternatives. Depending on the seating capacity, Terra Motors' electric tricycles could cost from $2,000 (nearly P84,000) to $3,000 (over P125,000).
"We are helping transform mobility and drive change by providing solutions to sustainable urban and metropolitan transport," said Tokushige. "We also strive to drive the industry forward by working twice as hard as our competitors and delivering double the quality. We look forward to partnering with Filipino businesses in working toward a better and cleaner world."
So, would you buy an electric scooter?