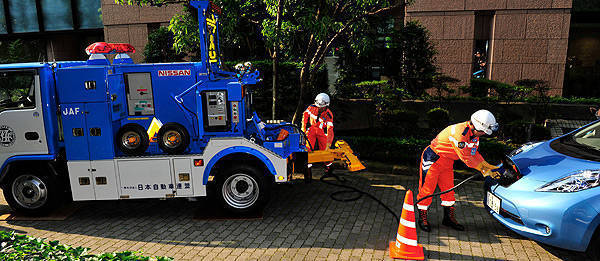 Nissan Motor Co., together with the Japan Automobile Federation (JAF), has started a joint trial operation of a roadside service vehicle that's equipped with a charger to give electric vehicles (EVs) a boostwhen they run out of power.
JAF will deploy the charger-equipped roadside service vehicle from its Kanagawa branch office and use it on a trial basis as part of its service for 2011. Both Nissan and JAF see this trial project as a valuable first step in promoting the use of this type of roadside service vehicle, "intended to create a safety net and render assistance to EVs which may run out battery power, and to help stranded motorists."
"As EVs gain wider consumer acceptance, it is important to create a roadside assistance system that can help motorists driving EVs which have run out of battery power, as well as to build a charging infrastructure," said Nissan's senior vice president of external and governmental affairs, Hitoshi Kawaguchi. "This will build confidence in EV use and contribute toward achieving a society with low carbon emissions."
Last December, the JAF conducted roadside assistance training, including towing, for EVs using a Nissan LEAF at the Nissan Education Center for its staff throughout Japan. The JAF has also started related practical roadside service training across Japan using other EVs in cooperation with other automakers.
"JAF has been working on ways to create an environment where motorists can drive EVs with the assurance that assistance is available and to support the adoption of environmentally-friendly EVs as part of our social contribution activities," said JAF's executive director, Masakazu Kume. "We have already prepared insulated gloves and goggles for our service vehicle staff to assist EVs. We will actively respond to requests from EV motorists as more and more EVs hit the road."
ADVERTISEMENT - CONTINUE READING BELOW ↓