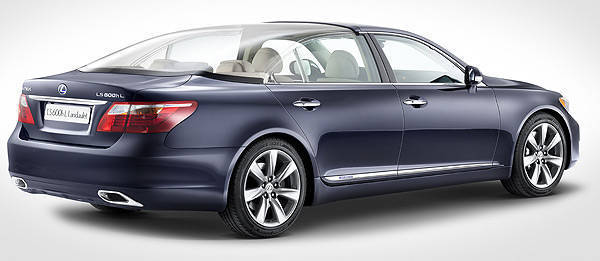 When Prince Albert II of Monaco marries Carlene Wittstock in Monte Carlo on July 2, the royal couple won't be transported in a horse-drawn carriage that looks like something out of a fairytale. Instead, they will be in a unique, full hybrid Lexus LS600h Landaulet fitted with a one-piece transparent polycarbonate roof.
The conversion of the standard LS 600h L was undertaken by Belgian coachbuilder Carat Duchatelet who worked closely with Lexus engineers based in Brussels, Belgium. With their focus on maintaining the levels of quality and technological sophistication that is quintessential to every Lexus vehicle while preserving the performance, safety and dynamic attributes of the donor car, it took more than 2,000 hours to complete the entire project.
The process began with computer-aided design calculation, simulations and 3D modeling. To reinforce the bodyshell following the removal of the roof and pillars to accommodate the transparent roof, Kevlar and carbon fiber composite materials were used to achieve suitable chassis stiffness and torsional rigidity.
Since composite parts have to be cured at very high temperatures, these were literally "cooked" onto the bare chassis in a specially prepared oven. This meant that much of the vehicle had to be dismantled, with around 20,000 mechanical parts, electric component and interior features, and upholstery being stripped out. The task of putting the car back together was then done under the close supervision of a Lexus engineering team to ensure consistency with original vehicle specifications and performance.
Continue reading below ↓
Recommended Videos
The transparent roof also presented a challenge in both design and manufacturing as it is a large, single piece element with no reinforcements or pillars. To make the roof, Lexus sought the cooperation of a French company that specializes in supplying similar components to the aerospace industry. The end product is a lightweight polycarbonate shell that is 8mm thick and weighs just 26kg. Fixed to the body of the Lexus through two intermediary parts, it allows a perfect view in and out of the car.
The final stage of the conversion, re-assembly and finishing took a team of 10 specialists working with Lexus engineers more than two weeks to complete, "to ensure the highest quality levels were achieved."
On the day of the wedding, the LS 600h Landaulet will be used by the royal couple to tour the principality after the ceremony. For most of this tour, the car will operate in fully electric mode with zero tailpipe emissions. After the celebrations, the car will first be displayed at the Media Center before it will be moved to the Oceanographic Museum in Monaco.