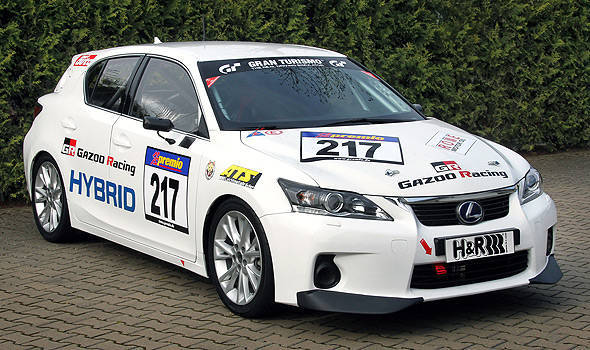 It isn't only Nissan that's looking to make alternative-energy-powered vehicles into true race cars as other carmakers also have the same idea. Lexus, as a matter of fact, recently fielded a modified version of the Lexus CT200h in the six-hour Adenauer ADAC Rundstrecken-Trophy endurance race.
Entered by Gazoo Racing, which swapped the standard car's 1.8-liter petrol engine with a larger 2.4-liter mill while keeping the batteries and hybrid system stock, the car finished in 108th place, ahead of 19 other cars.
According to Lexus, at start-up and under braking, the CT race car only uses its electric motor, thereby producing zero tailpipe emission and using no fuel. The combustion engine then seamlessly takes over at higher speeds with the electric motor providing additional power when the car is accelerating or running at racing speeds.
Throughout its operation, the Lexus full-hybrid system intelligently selects the most appropriate power source while simultaneously capturing the kinetic energy generated by the brakes through the car's regenerative braking to charge the battery, which in turn powers the electric motor.
It's because of this Lexus Hybrid Drive that the CT race car requires less fuel and emits lower levels of carbon dioxide and harmful nitrogen oxide than any equivalent petrol or diesel race car.
Continue reading below ↓
Recommended Videos
This isn't the first time Lexus has entered one of its cars in an endurance race as that honor belongs to the RX400h which contested the Nürburgring24 Hours in 2005.