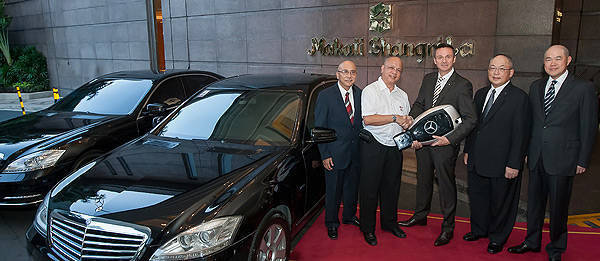 Luxury begets luxury. So it's no surprise that one of the country's most luxurious hotels, Makati Shangri-La, together with the Philippines' top fleet service provider Avis Philippines, has added the Mercedes-Benz S400 Hybrid to its limousine fleet.
The S400 Hybrid was launched locally in September 2009 by the German carmaker's authorized distributor, CATS Motors. With its 3.5-liter engine complemented by a lithium-ion battery-powered electric motor, the S400 Hybrid is said to have a fuel economy of 13km/L, but is still capable of accelerating from 0 to 100kph in 7.3 seconds.
With the Mercedes-Benz S400 Hybrid in its fleet, Makati Shangri-La is setting a benchmark in the local hospitality industry, not only with regard to its commitment to its guests but also when it comes to the environment. Aiming to provide its guests with only the best luxury hotel transportation, Makati Shangri-La general manager Reto Klauser is confident that the hotel will exceed expectations.
"Transportation is definitely a critical aspect in our services because this is one of the first things that can make or break a guest's overall experience with us," said Klauser. "It is very important and it is an honor for us to be associated with a brand that values performance, is results-oriented, and above all, takes pride in quality excellence as much as we do."
Continue reading below ↓
Recommended Videos