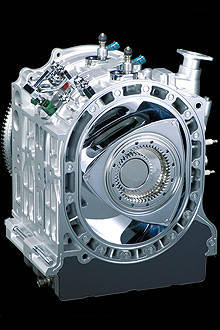 As the month of June wraps up this weekend, so too does Mazda's production of the RX-8 sports car--as we previously reported in April--and its rotary engine, 45 years after the Japanese carmaker began mass-producing the innovative rotary combustion mill for some of its cars, starting with the first-generation Cosmo sports car in 1967.
Since then, Mazda has made nearly two million vehicles that carry variations of its Wankel rotary engine. Serving as Mazda's highlight of its use of the rotary powerplant was its victory in the 1991 staging of the 24 Hours of Le Mans endurance race with its 787B race car, making it the first and only Japanese car to win the prestigious annual motorsport event.
According to Bloomberg.com, however, what brought on the rotary engine's demise for Mazda were the tightening emission standards globally and the rising prices of petroleum products. While the rotary engine was lighter than conventional piston-driven units, it wasn't as efficient since it typically used oil injection to lubricate seals and left some amount of fuel unburned. These factors gave Mazda's rotary-powered vehicles a reputation for being inefficient with their gas mileage and emission content.
ADVERTISEMENT - CONTINUE READING BELOW ↓
As the final nail to the rotary engine's coffin, the RX-8 reportedly failed the diagnostics tests for the Euro 5 emission requirements that came into effect in 2010, making it ineligible to be sold in Europe.
"Production of the RX-8 will end, but the rotary engine will live on as an important part of Mazda's spirit," Mazda president Takashi Yamanouchi told Bloomberg.com.
ADVERTISEMENT - CONTINUE READING BELOW ↓
Recommended Videos