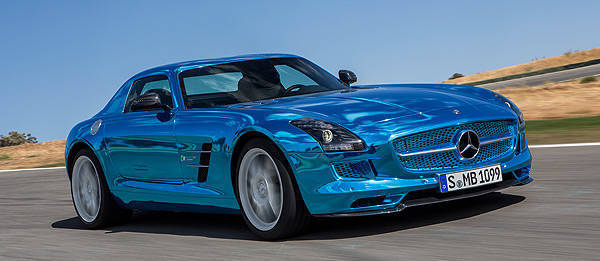 Before Mercedes-Benz took the SLS AMG Electric Drive to the ongoing 2012 Paris Motor Show, the German carmaker first took its all-electric supercar to Spain and drove it around the Ascari Circuit.
Resplendent in its electric-blue finish, the SLS AMG Electric Drive tackled the 5.5km track silently yet swiftly, making full use of its four synchronous electric motors and its 740hp, 1,000Nm output to propel it from zero to 100kph in 3.9 seconds.
And yet, as impressive as that prodigious amount of power is in a car, the one thing that's disconcerting about the SLS AMG Electric Drive is that, like most electric-powered cars, it's too quiet, with the only audible sound being the road noise generated by the car's wheels. We say disconcerting because, after you've heard the guttural sound generated by the standard gasoline-powered SLS AMG, seeing one doing its business too quietly feels just a tad incomplete.
If you don't believe us, check out the videos of the SLS AMG Electric Drive below and one of the standard, petroleum-fed SLS AMG starring a certain Michael Schumacher.
If you're viewing this on a mobile device and can't see the video, please click here.
<>