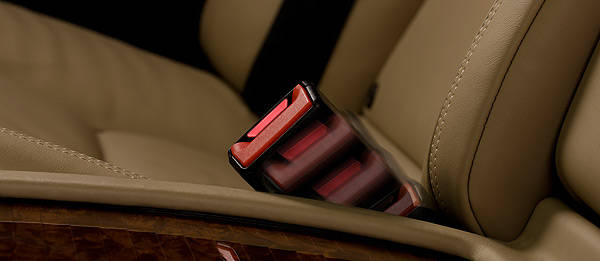 Mercedes-Benz is reinventing the seatbelt by coming up with an active buckle and it will be installed in in one of the German carmaker's luxury-segment models in the near future.
"Active seatbelt buckle is another element of our 'Pre-Safe' concept, which is intended to provide our customers with optimum protection in real accident scenarios," said Rodolfo Schöneburg, head of passive safety and vehicle functions at Mercedes-Benz Cars. "In the rear of premium saloons in particular, passengers tend to sit in particularly relaxed positions in the generous space which is available. Active seatbelt buckle as part of Pre-Safe unlocks the full potential of the on-board restraint systems."
The active seatbelt buckle has an electric motor that extends the buckle by 70mm and retracts it by 40mm. Since the belt buckle is attached via a cable to a spindle nut, which runs on a spindle, this translates the electric motor's rotary movement into a linear movement. According to Mercedes-Benz, this reduces the belt slack on the pelvis and thorax area, thereby securing the passengers more firmly in both lateral and longitudinal directions as its safety experts developed the active seatbelt buckle using detailed computer models of the human body.
Besides enhancing the safety of the rear seats for passengers, Mercedes-Benz also made the active seatbelt buckle more convenient for them as it has an illuminated insertion slot. The carmaker hopes that by simplifying the use of the seat belt, it may increase the percentage of rear passengers who buckle up.
Continue reading below ↓
Recommended Videos
According to Mercedes-Benz, the active seatbelt buckle will replace the pyrotechnic belt tensioning system, which is triggered in the event of actual impact and has been a standard feature in its vehicles for many years now.