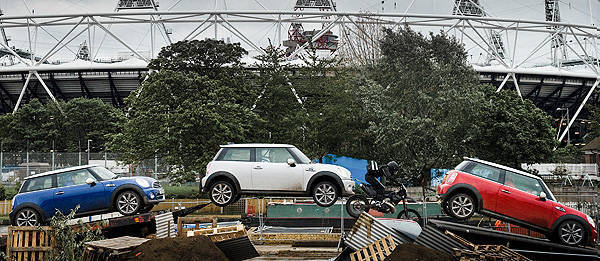 With the 2012 Summer Olympics in London drawing closer, Mini has released a short film that carries the theme of the international sporting event and pays homage to the 1969 classic caper film The Italian Job.
The short film carries the title The Britalian Job and includes stunts performed by red, white and blue London 2012 special-edition Minis with some of London's most iconic landmarks serving as backdrops.
Several references to the original film are made in the short, like the Minis emerging from the same Park Lane basement as used in the film, traversing down the Duke of York Steps, and a chase through Leadenhall market.
The film's climax has the three Minis performing a 10m jump in close formation in front of the Olympic Stadium.
British sporting legends Daley Thompson, James Cracknell, Jonathan Edwards and Matthew Pinsent served as the film's protagonists, while motor racing enthusiast and model Jodie Kidd played the role of the motorcycle-riding thief.
ADVERTISEMENT - CONTINUE READING BELOW ↓
"The Italian Job is a classic and this was a great opportunity and the right time to have some fun with it in London," said BMW Group UK's corporate communications director, Graham Biggs. "We wanted to make an exciting short film featuring British sporting heroes and three Minis as the stars, in and around some of London's greatest landmarks, as the city prepares for The Games. We hope everybody enjoys it."
The Britalian Job was directed by Phil Churchward, the lead director on BBC's Top Gear, with key members of the show's production team being used for the short film. Serving as stunt coordinator was Paul Swift, a multiple Guinness World Record holder, seven-time British Motorsport Champion, and son of frequent Manila International Auto Show attraction Russ Swift.
If you're viewing this on a mobile device and can't see the video, please click here.
ADVERTISEMENT - CONTINUE READING BELOW ↓
Recommended Videos