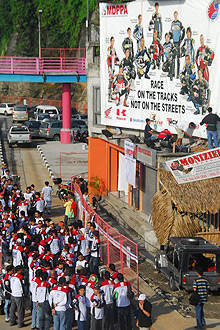 The Motorcycle Development Program Participants Association (MDPPA) will be promoting road safety with various activities to adderss the alarming number of road accidents that involve inexperienced motorcycle riders.
"We are working on establishing something like a riding seminar for new motorcycle riders at the dealership level so that soon after buying a new motorcycle, these riders can immediately be taught the safety aspect of motorcycle riding," said MDPPA president Reynaldo Gener.
The MDPPA is hoping to spread the word about road safety at the dealership level not only to change the negative image motorcycle riding has earned due to numerous accidents, but because of the group's aim to keep all road users safe.
In the first half of 2011, the group put up billboards to remind motorcyclists to always wear protective gear when riding. The billboards also tell riders to "race on the race tracks, not on the streets." Three billboards were placed in strategic places that see a lot of motorcycle traffic like the Marilaque highway through Rizal, the Tunasan, Muntinlupa National Highway, and along the McArthur Highway in Marulas, Valenzuela. Two more billboards will also be placed in Cebu and Davao.
As the group's contribution to the United Nation's Decade of Action for Road Safety for 2011-2020, it launched the Helmet On, Headlight On Project. Also known as the H2O, the project advises motorcycle riders to always wear a helmet to reduce the risk of fatal injuries during accidents. Activating headlights, on the other hand, is "considered as a low-cost method to reduce crashes and collision" as it enhances motorists' visibility.
Continue reading below ↓
Recommended Videos
On July 30, the MDPPA distributed the Safety Riding Manual during its Weekend Riding Advocacy.