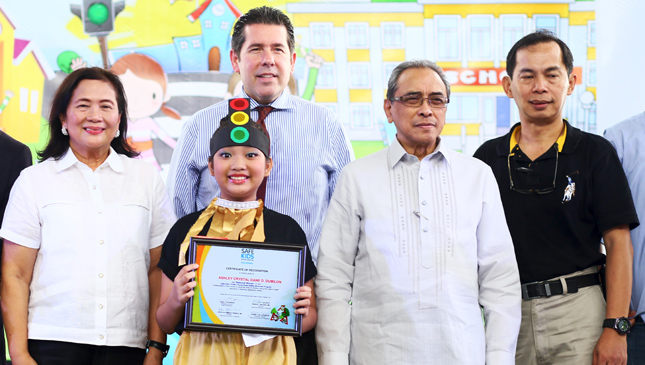 It's safe to say that Manila is far from being a pedestrian-friendly city. Walking the streets is just about the only thing more dangerous than driving on them--if the wayward vehicles don't get you, either the pollution or the invisible pedestrian lanes will.
To make matters worse, many people who travel by foot can't seem to distinguish correct practices from wrong ones--either due to a lack of knowledge regarding basic pedestrian rules, signs and markings, or because of a complete disregard for them.
Enter the "Young Road Safety Advocate" program. Backed by Safe Kids Philippines and express transportation company FedEx Express, the program's goal is to empower young pedestrians through peer-to-peer safety education, culminating in the selection of the year's top student mentor.
This year's Young Road Safety Champion award winner is Ashley Crystal Dane Dumilon from Gueco Balibago Elementary School in Pampanga. The fifth-grade student bested 327 other road-safety educators from 27 different participating schools from Metro Manila, Pampanga, Quezon and Cebu.
"I feel happy," Ashley said about winning this year's award. "Hopefully, my students remember everything I taught them so they can stay safe." Ashley also said that the government should place more signs and pedestrian lanes to ensure the well-being of people who travel on foot.
During the awarding ceremony, FedEx Philippines managing director John Peterson said that the company is committed to the cause of promoting pedestrian safety, especially for children. "Through the National Safe Kids Week activities and our year-round advocacy work with Safe Kids, we hope to use our expertise in making the roads safer, particularly for children who are more vulnerable to traffic accidents," he declared.
ADVERTISEMENT - CONTINUE READING BELOW ↓
It's a shame that even kids have to fear crossing the street in our country. If we can't provide safety for our kids, then we're failing as a society. Just saying.
ADVERTISEMENT - CONTINUE READING BELOW ↓
Recommended Videos