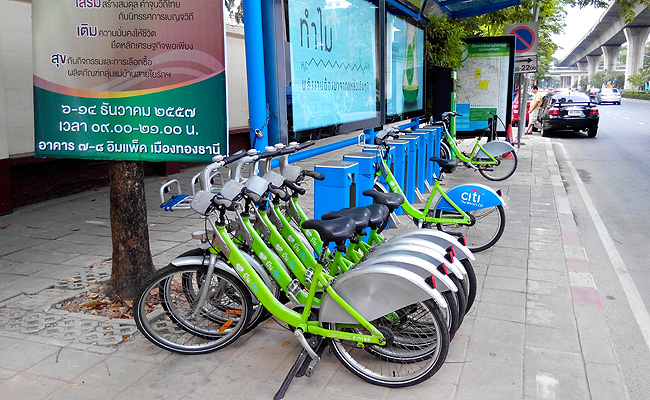 Bangkok has what may be one of the most efficient public transportation systems in the ASEAN region. There are the usual taxicabs and public-utility buses, the Skytrain, and the tuk-tuks. More recently, a new form of public transport has begun expanding in Bangkok, and that's the Pun Pun bike-sharing program.
The Pun Pun bike-sharing program has 50 stations located around the Pathum Wan district of Bangkok, with a fleet of 330 bikes. To be able to borrow one, an individual must first become a member by registering on the PunPunBikeShare.com website, and then going to one of the manned stations to pay the annual membership fee of 100 baht and the one-time smart card fee of 120 baht. Membership is limited to individuals "over 16 years old on the application date."
Since the card is preloaded with a value of 100 baht, new members can already use one of the bikes located at a Pun Pun station, with the fees ranging from 10 baht for using the bike for up to one hour, to 100 baht if the bike is used for more than eight hours. Bikes that are used for only 15 minutes are free of charge. If the bike is returned after midnight of the day it was rented, members will be charged 500 baht per day. If the bike is lost, members will be charged 8,000 baht.
To use the card at unmanned stations, members need to only have the RFID-enabled smart card with them, select the "Bike Rental" icon on the touchscreen system, tap the card on the card reader, enter their four-digit code and select the bike number on the screen. Once this is done, members need to tap the card on the dock of the bike number they've selected to unlock it, and then they're free to pedal away and return the bike to any one of the 50 stations before midnight.
So the next time you're in Bangkok, check out the Pun Pun bike-sharing system for a cleaner, more environment-friendly way to get around.
Photos by Patrick Everett Tadeo