In a few days, Metro Manila will be shifting to general community quarantine (GCQ). With that, the Department of Transportation (DOTr) has now laid out its upcoming plans for the transport sector.
Headlining its strategy is the transformation of EDSA, wherein the lane system along the thoroughfare will be reworked. The outermost lanes will be dedicated to bikes, while the innermost ones will become segregated bus lanes. The lanes in between will then be dedicated to private vehicles. You can check out the image below to get an idea.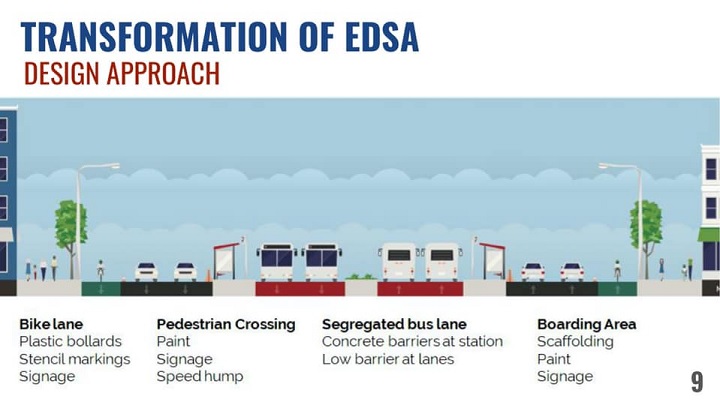 The agency also specified that the transport sector will go through two phases under this new level of quarantine in the metro. Phase 1—which will be implemented from June 1 to 21—will see the operation of trains, taxis, TNVS, shuttle services, P2P buses, and bicycles at limited capacities. Tricycles will be allowed to operate, provided their LGUs allow them to do so.
Continue reading below ↓
Recommended Videos
Under this first phase, no provincial buses will be allowed to operate. However, the DOTr will roll out its aforementioned bus augmentation system along EDSA to provide enough transport for commuters. There will be stops positioned at MRT-3 stations, and the agency is set to establish boarding areas and pedestrian crossings as well.
This system is aimed at supplementing the limited train operations under GCQ. During last night's press briefing, the DOTr also said that there will be around 300-500 buses that will initially operate under this new system.
Meanwhile, Phase 2 will be implemented from June 22 to 30, during which public utility buses, modern PUVs, and UV Express vehicles will be allowed to operate, albeit at limited capacities as well. If you want to read more on the specifics for public transport operations under GCQ, click here. You can also check out the DOTr's official announcement below:
Thoughts, commuters?
For more of our stories on the ongoing crisis, click here. For the latest news and updates on COVID-19, check out reportr.world/covid-19.