Here's the very latest on the Child Safety in Motor Vehicles Act: Implementation is pushing through, as announced yesterday, but the Department of Transportation (DOTr) again stresses that no apprehensions will be made over the next few months in this initial phase of implementation. This was confirmed by the agency during a press briefing today, February 2.
"By operation of law, yung batas ay effective na as of today. Ang gagawin lang natin ay hindi natin strictly i-i-impose yung fines and penalties, so walang hulihan na mangyayari in case na makitang wala pang child restraint system doon sa sasakyan," said DOTr assistant secretary Goddes Hope Libiran.
Libiran added that for now, the DOTr will focus on the rollout of a massive information, education, and communications (IEC) campaign with the help of other government agencies and the media.
Table comparing child restraint systems or child car seats: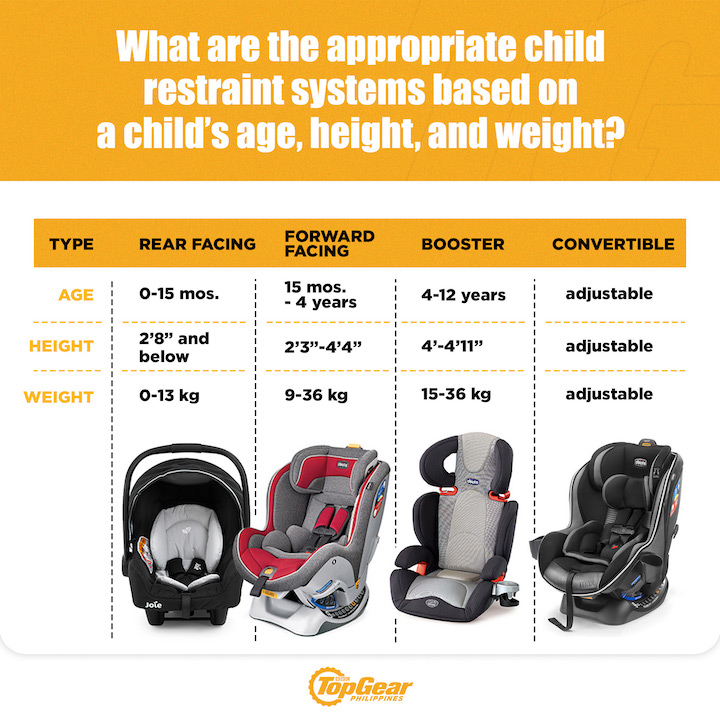 Continue reading below ↓
Recommended Videos
With that out of the way, let's address some of the questions you probably all still have: "Should I get a car seat now? What type of car seat should I buy? What if I already have one?"
What to do and what to look for in child car seat products?
First things first, no need to panic, especially if you have no travel plans given the ongoing pandemic. If you haven't bought a car seat for your kid yet, our best advice right now is to wait for the Department of Trade and Industry's list of child car seats that meet the requirements of the law, and which have already been granted a Philippine Standards mark or an Import Clearance Certificate.
If you want to start checking out CRS models in physical or online stores, the items should bear these stickers:
Already bought a car seat before the law took effect? No need to get a new one just yet: You could bring the car seat you have to the LTO to have it inspected and certified as fit to use. If and when your car seat does fail the inspection, that's the time to buy a new one. That said, the LTO has yet to announce venues and guidelines for this inspection and certification process—we'll keep you posted as we get further updates.
The bottom line here is this: Let's all stay calm and stay put. Hopefully, in the coming days or weeks, the DOTr and the LTO will have come up with more IEC materials to clarify all this.