Last month, Malacañang announced that motorists would no longer be required to undergo testing at private motor vehicle inspection centers (PMVIC) and would be able to fulfill their Land Transportation Office (LTO) requirements by visiting private emission testing centers (PETC) instead. PMVICs also agreed to lower their testing fees.
The announcement was pretty straightforward, but a memorandum circular recently released by the Department of Transportation (DOTr) has caused some confusion online.
According to DOTr Memorandum Circular No. MC-SC-2021-01, "visual inspection of the roadworthiness/safety features of a motor vehicle shall be mandatory" along with the usual emissions test from a certified PETC or PMVIC. Look: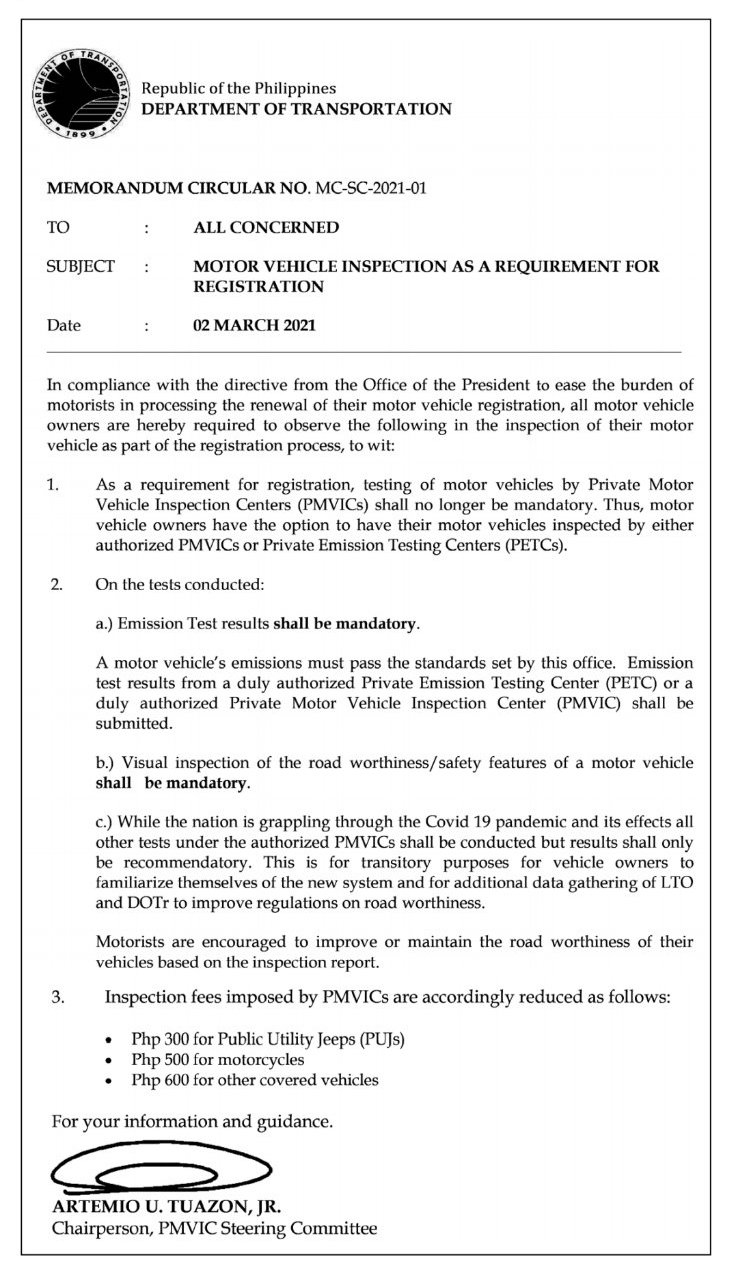 Continue reading below ↓
Recommended Videos
No, the "visual inspection" mentioned above is not the same as the visual inspection conducted at PMVICs. While PMVICs do conduct their own visual inspection prior to computerized testing, a visit to one is still entirely optional.
We reached out to DOTr assistant secretary Goddes Hope Libiran, and according to her, this inspection can be conducted at an LTO Motor Vehicle Inspection System (MVIS) facility, too, and that this procedure has been in place long before PMVICs came into play.
"Allow me, please, to clarify na matagal nang may visual inspection. Even prior to the establishment of PMVICs. Nagkaroon kasi ng kalituhan yung iba noon because they thought MVIS and PMVIC are the same. They are not. MVIS is the system, PMVIC is the private facility," Libiran explained, adding that some people may have mistakenly believed the MVIS visual inspection is no longer required.
"Ang dating process kasi, once makapasa ka sa PETC, you bring your certificate with you to the LTO MVIS facility. Once you go to the facility, your vehicle will be subjected to visual inspection. Kung pasado both sa emission testing and visual inspection, then okay. Meron din namang dumidiretso sa LTO MVIS facility to subject their vehicles to both emission testing and visual inspection."
There you have it. Long story short, a visual inspection to be conducted as part of the LTO MVIS is still required, but a visit to a PMVIC is still entirely optional. Spread the word.