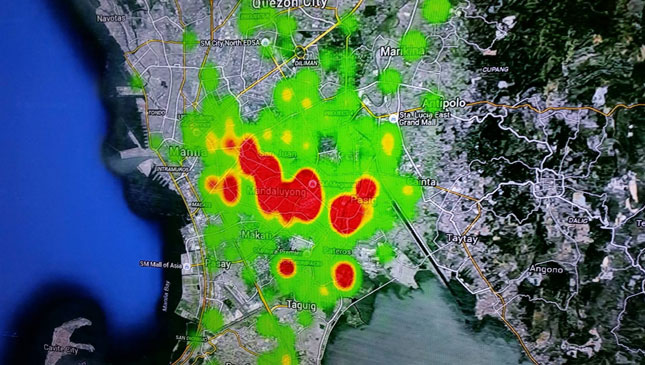 If you've ever wondered just how busy things get during rush hour in Manila (though we think it should be pretty obvious), maybe the image above will give you an idea.
The image is a shot of Grab's "demand heat map" yesterday at around 7am. Grab engineers showed us very interesting satellite images of the service's demand in different cities including Singapore and Kuala Lumpur, among others.
The image pretty much speaks for itself: The higher the demand, the redder the color becomes. The clear areas are neutral zones. Frankly, we thought the overall reading would be a hell of a lot redder than this. Remember: These were just commuters hailing Grab rides. We can only imagine how this would look if it took into account all public transportation--the screen would probably black out from all the activity.
It really is amazing seeing just how much technology is involved in the app-based transport service. What other fascinating bits of information were we able to find out from Grab? The busiest day in Manila throughout 2015 was Friday (surprised?), and there are 70 cars per 1,000 people in Southeast Asia (compared to 574 cars per 1,000 people in the United States). Damn. No wonder moving around is such a pain.
Continue reading below ↓
Recommended Videos
Kudos to the Grab engineers for all their work. Come to think of it: Maybe similar technology can be used by our government to monitor--and hopefully help alleviate--the incredibly frustrating traffic conditions we deal with on a daily basis.