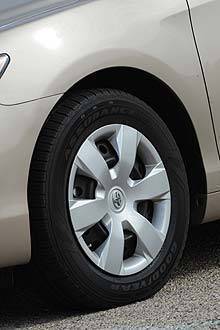 The new Goodyear Assurance Fuel Max with Fuel Saving technology is already available to Filipino motorists who want to cut the fuel consumption of their vehicles, Goodyear Philippines said.
In a statement, Goodyear said the Assurance Fuel Max with Fuel Saving technology, the latest tire product from Goodyear's award-winning Assurance line, provides four percent more fuel efficiency and 15 percent more fuel mileage than conventional tire technology.
"In an environment where consumers are increasingly concerned about the rising cost of fuel and carbon emissions, Goodyear Assurance Fuel Max delivers more fuel efficiency, without compromising the key safety attributes that are the hallmark of all Goodyear tires," said Daniel Smytka, Goodyear Asia Pacific vice president for consumer tires.
Continue reading below ↓
Recommended Videos
Goodyear Assurance Fuel Max is designed for mid- and premium-family vehicles.
"When drivers are navigating the roads of Asia, they need a tire that offers maximum safety," Smytka said. "Features such as a strong grip, puncture resistance, blow out resistance, shorter braking distance and anti-skid are critical safety performance attributes that urban consumers require. The Goodyear Assurance Fuel Max combines innovative tire technologies and is the tire families can depend on for everyday city driving or weekend road trips."
For safety, the Assurance Fuel Max is reinforced with the same DuPont Kevlar overlay--a material that is five times stronger than steel--that made previous models under the Assurance line successful.
The Assurance Fuel Max is available in selected Goodyear stores like Goodyear Autocare, Goodyear Servitek and Tyre Pro nationwide. The product is sold from P3,000 to P4,000 each and comes in the following sizes:
185/55R15
195/50R15
195/55R15
195/60R15
195/65R15
205/60R15
205/65R15
205/55R16
205/60R16
215/60R16
225/60R16
Wondering how a tire can help you save fuel? Here's a sample computation from Goodyear:
New Assurance Fuel Max's fuel efficiency improvement can lead to 320L of fuel savings. For example: If a 1.6L car has an average fuel consumption rate of 10L/100km, is fitted with Assurance Fuel Max on size 195/65R15 91V and travels a distance of 80,000 km, the potential fuel savings can be calculated as follows:
80,000 km (distance traveled) x 10L/100 km (fuel consumption rate) x 4% (fuel saving rate) = 320 L (potential fuel savings)
(Disclaimer from Goodyear: Fuel saving value of 4% as evaluated by TUV SUD Automotive GmbH as a technical witness partner in cooperation with Goodyear in Mireval, Report Number 76243002-1, May 2010 as tested on Citroen C4 1.6L on size 195/65 R15. Internal Goodyear test projected Assurance Fuel Max tread life to 85,777km., 15% longer versus conventional technology (Goodyear Ducaro GA). Actual fuel savings and tread life may vary according to other factors including environment, road, vehicle conditions, vehicle model, and driving habits, etc.)
[gallery]725[gallery]