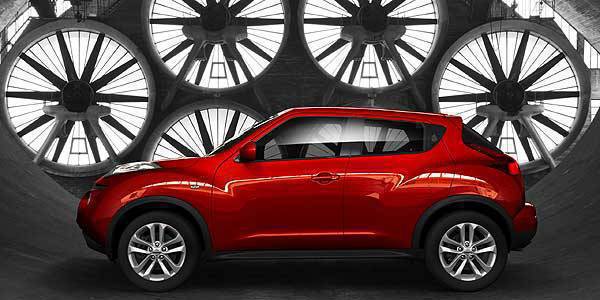 Nissan will soon give Kia a run for its money as the Japanese carmaker has revealed the Juke, a compact crossover expected to go head-to-head against the Korean brand's Soul.

The Juke is designed to be bear the coolness of a sports car and the toughness of a sport-utility vehicle. Its high waistline and couple-like sloping roofline hints at its sporty nature while the extended ground clearance and 17-inch wheels make it out to be a true crossover. Its size and layout makes it comparable to the Kia Soul. The Juke's advantage, however, is that it will be available in either front-wheel drive or all-wheel drive options.

The Juke will be made available in three different engine variants. The 1.5-liter CRDi puts out 110hp at 240Nm of torque while the naturally-aspirated 1.6-liter petrol engine can churn out 117hp. The range-toping mill is a 1.6-liter turbocharged powerplant that makes 190hp at 240Nm of torque.

The lower-spec'd Jukes will come with either a five-speed or six-speed manual transmission, while the top-of-the-line ones--both naturally-aspirated and turbocharged--will get Nissan's XTRONIC CVT transmission.

The Juke was designed in Europe but is slated for the global market.

Nissan is planning to offer the Juke in nine colors, including unique shades like Force Red, Haptic Blue and Machine Brown. Color availability will eventually depend on the region.

The Juke will have its global premier at the Geneva International Motor Show this March.
Continue reading below ↓
Recommended Videos