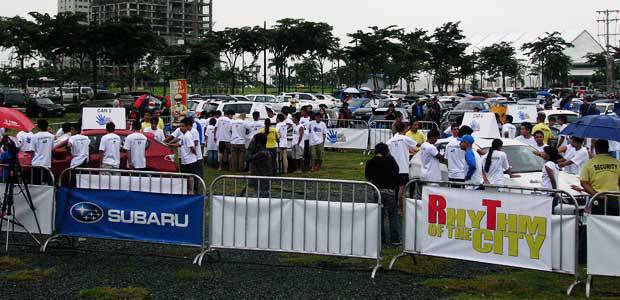 (UPDATED) Almost half of the participants competing for one of the ten slots in the final round of the Subaru Impreza Challenge have dropped of the contest as of this morning.
Only 38 competitors are left holding on to the Subaru Impreza as of 10 a.m.
At around the same time, relatives, friends and significant others of the participants have already started to gather at the venue in time for the "family break" which happened at noon.
As of this posting, the Subaru Impreza challengers have already been subjected to varying degrees of heat and rainshower for more than 24 hours.
They are keeping their right palm on the Subaru Impreza in the hopes of winning aan all-expense paid trip for the Impreza Challenge -Singapore leg which starts on October 31. In Singapore, the ten Filipino finalists will compete with representatives from other Asian countries for a brand new Subaru Impreza WRX worth P1.7 million.
ADVERTISEMENT - CONTINUE READING BELOW ↓
Those who were rooting for the four honor guards at President Cory Aquino's cortege may be in for a disappointment as they've  started dropping out of the race since after 9 p.m. on September 12. The challenge started at 12 noon on the same day.
Air Force Airman Second Class Gener Laguindam and Army Pfc. Antonio Cadiente gave up 9 hours and 40 minutes in to the challenge, followed by Police Officer 2 Danilo Malab Jr. at 10:58 p.m.
Malab said his stomach started acting up after he ate the food served during the five-minute break at around 6 p.m.
"Hindi talaga ako bibigay pero at 8 p.m. parang pinipiga na yung tiyan ko," Malab said in an interview.
If an opportunity to own a Subaru Impreza WRX comes again next year, Malab said he will definitely be joining again.
"Isa sa mga dreams ko talaga magkaroon ng ganyan," he added.
ADVERTISEMENT - CONTINUE READING BELOW ↓
Recommended Videos
The last honor guard to take his hand off the Subaru Impreza was Navy Petty Officer 3 Edgardo Rodriguez whose record stood at 16 hours and 51 minutes.
The first seven participants to give up in this year's Subaru Impreza Challenge raised their palms within seven hours of the competition.
"This is a stronger group compared to the one we had last year," said Motor Image Pilipinas marketing manager Ariel de Jesus said. Motor Image is the exclusive distributor of Subaru vehicles in the Philippines.