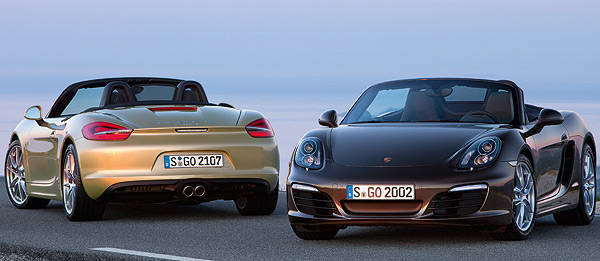 Porsche has embarked on its most comprehensive model change to date and it's evident in the all-new Boxter.
The open-top two-seater now has a completely new lightweight body and a completely revamped chassis. Together with its longer wheelbase, wider track and larger wheels, the mid-engine Boxster's driving dynamics, which is already the best in its class, is enhanced even further. Other changes to the Boxster are its shorter overhangs, significantly forward-shifted windscreen and a flatter silhouette.
Protecting the all-new Boxster's occupants from the elements is a completely redesigned, fully electric hood that, when stowed, is covered by a convertible top compartment lid. The interior concept offers its occupants more space and reflects the new Porsche outline with the raked center console--the same one that was initially used in the Carrera GT supercar to ensure better ergonomics in all models.
Powering both the Boxster and the Boxster S are a flat-six engine with direct port injection with its efficiency enhanced further by electrical system recuperation, thermal management and start/stop function. A 2.7-liter, 265hp engine is utilized by the standard Boxster while the Boxster S has a 3.4-liter mill that puts out 315hp.
Both models feature a manual six-speed gearbox as standard with the seven-speed Porsche Doppelkupplungsgetriebe (PDK) available as an option although according to Porsche, both sports cars achieve their best fuel consumption and acceleration performance with the PDK.
Continue reading below ↓
Recommended Videos
Porsche said the all-new Boxster is 15 percent more fuel efficient than its predecessor. Depending on the variant, its fuel consumption is at least less than eight liters of fuel for every 100 kilometers.
With the PDK, the Boxster's fuel consumption is at 7.7 liters for every 100 kilometers (12.987km/L) and its zero to 100kph sprint time is at 5.7 seconds. As for the Boxster S, its fuel consumption figure is 8.0 liters for every 100 kilometers (12.5km/L) while its zero to 100kph time is at 5.0 seconds.
The all-new Boxster officially goes on sale globally on April 2012.
[gallery]1138[gallery]