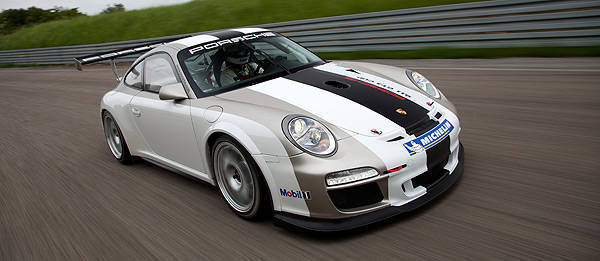 With over 2,200 units sold, Porsche is proud to say that its 911 GT3 Cup race car is undisputedly the top choice of customer racing teams all over the world. For the 2012 and 2013 race seasons, Porsche updated the car with a 100-liter FT3 safety fuel tank that is filled via an opening in the front bonnet, making it even more suitable for endurance racing.
The 2012-spec 911 GT 3 Cup car is based on the 911 GT3 RS production car. It even uses the same powerplant as the street car, down to the 450hp output and 8,500rpm maximum engine speed. A race exhaust system with a controlled catalytic converter, though, keeps emissions to a minimum.
Depending on the type of race the car will compete in, the new 911 GT3 Cup features different rim specifications. The blade-type anti-roll bars at the front and rear are adjustable in seven positions allowing an extremely precise set-up for each race track.
Exclusive to the Porsche Mobil1 Supercup, which runs as a support race to Formula 1, is the Porsche Ceramic Composite Brake (PCCB) that is also available for Porsche's roadgoing models. Compared to the composite cast brakes in the Carrera Cups and the GT3 Cup Challenges, PCCB reduces the car's weight by around 20 kilograms.
Continue reading below ↓
Recommended Videos
The updated Porsche 911 GT3 Cup will be delivered to teams around the world from September and will be run in this specification for the 2012 and 2013 race seasons in selected one-make cup series.