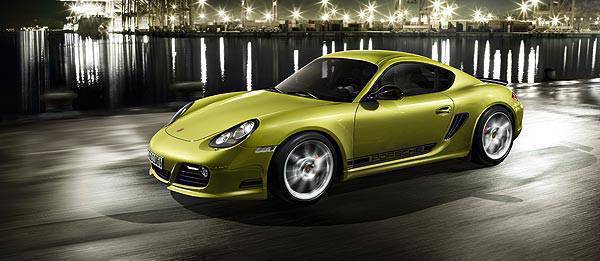 Porsche has released its new mid-engined sports car: a new variant of the Cayman, only it won't be called the Club Sport. Instead, it'll simply be called the Cayman R.
According to Porsche, the company's alphabet reserves the letter R for very special sports cars as "R" stands for responsive, refined and most especially for racy. For the Cayman R, Porsche combined all these attributes without compromising the car.
The Cayman R is powered by a 3.4-liter, flat-six engine developed to produce 330hp, ten horsepower more than the Cayman S. With its standard six-speed manual transmission, zero to 100kph goes by in five seconds while with the optional seven-speed Porsche Doppelkupplungsgetriebe (PDK), the same sprint is reduced to 4.9 seconds. With the optional Sport Chrono package, the zero to 100kph sprint goes down to just 4.7 seconds.
For Porsche's new mid-engine coupe, the top speed with the manual gearbox is 282kph, with the PDK-equipped version slower by just 2kph.
Weighing in at just 1,295 kilograms, the Cayman R is 55 kilograms lighter than the Cayman S, reducing the power-to-weight ratio with the manual gearbox to 3.9 kilograms per horsepower, and 4.0 kilograms per horsepower with the PDK version weighing. The largest savings, though, were achieved through the use of lightweight components and doing without convenience equipment. The Cayman R also utilizes the lightest 19-inch wheels the entire Porsche range can offer, with the complete rim set weighing less than 40 kilograms.
Continue reading below ↓
Recommended Videos
Differentiating the Cayman R from its standard stablemates are the extended silhouette of the bodywork, which has been lowered by 20mm compared to the Cayman S, the fixed rear spoiler and the high-quality silver-painted wheels. Numerous highlights on both the interior and exterior also identify the Cayman R like the black-framed headlights, black exterior mirrors and the "Porsche" lettering on the side in contrasting black or silver, depending on the car's body color.
[gallery]654[gallery]