Here's Lewis Hamilton, six-time Formula 1 champion, just trucking along in his Mercedes-AMG on the last lap in the lead of the 2020 British GP. Nothing new to see, really.
Except he's on three wheels.
Starting on pole, Hamilton led from lights to flag, later admitting that while he maintained the lead over teammate and chief rival Valtteri Bottas, the Finn had kept him on his toes throughout. Barring a couple of safety-car incidents and some decent midfield scraps, the race was fairly unexceptional.
But then the last few laps happened. And all hell broke loose. Bottas's left front tire gave up the ghost just after he'd passed the pit lane, so he had to limp around for what must have felt like forever. This was two laps from the end, and he quickly dropped out of the top 10.
The call came to Hamilton straight away to be wary of his tires. Then, on the final lap—around halfway through—his front left tire also said sayonara. With Red Bull's Max Verstappen charging up behind him on a fresh set of rubber, it was heart-in-mouth stuff as to whether the Brit could keep his victory.
Continue reading below ↓
Recommended Videos
He did—just—limping home across the finish line on three wheels, to take victory.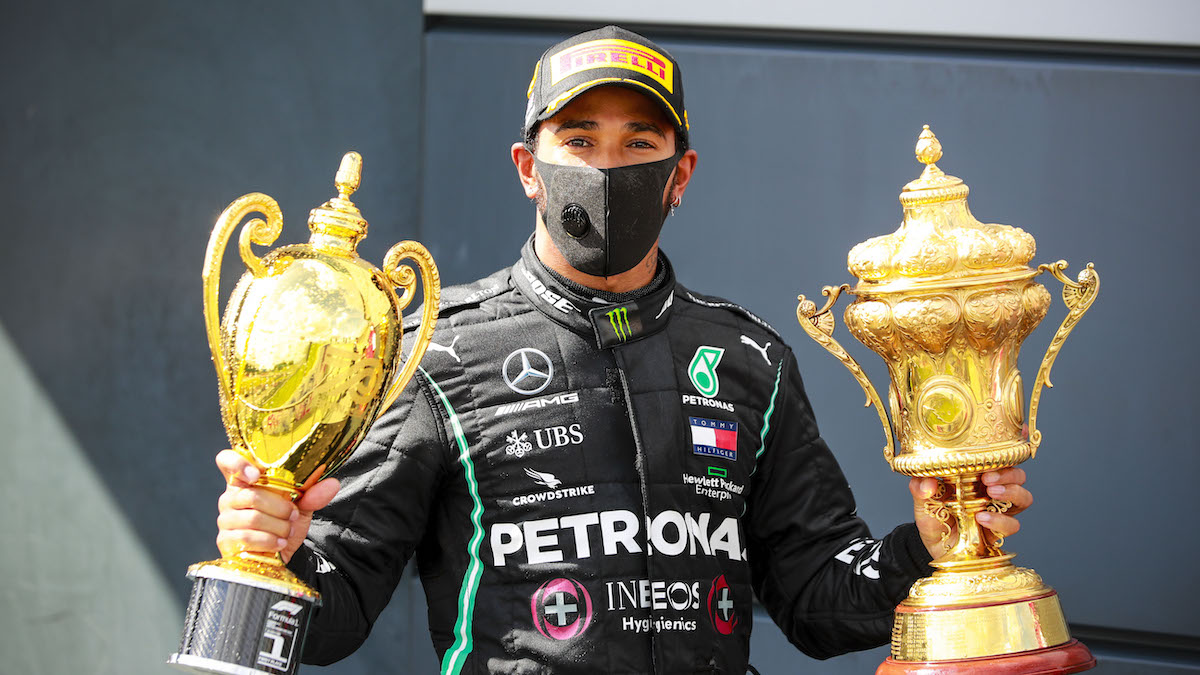 "I have never experienced anything like that before," he said. "That last lap was one of the most challenging laps I have ever had. Up until that point, everything was going relatively smoothly, the tires felt great and I was doing some management.
"When I heard Valtteri's tire had gone, I looked at mine and everything seemed fine, but I started to back off. Then, it just suddenly deflated down the straight. It was a heart-in-your-mouth feeling and then I was just trying to keep the speed up without damaging the car.
"[My race engineer] Bono was giving me the gaps; I think it was 30 seconds at one stage, but it was coming down quite quickly and I was thinking, 'How far is it to the end of the lap?' But we managed to get the car across the line. That last lap is definitely one to remember, I feel so grateful that I got it back and could secure the win. It was difficult standing up there on the podium without the crowd, but hopefully I did everyone proud who was supporting us from home."
Same, Lewis. Same.
NOTE: This article first appeared on TopGear.com. Minor edits have been made.