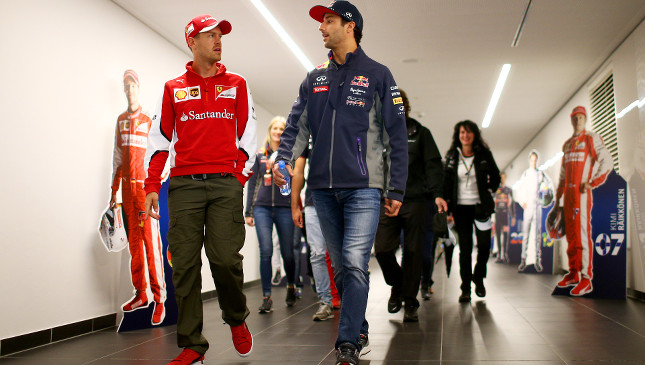 This weekend, the Styrian mountains come alive with the (polarizing) sound of turbo V6 hybrid power units, as Formula 1 makes a stop in Austria for the eighth race of 2015. The Red Bull Ring, formerly called the Österreichring, is a power track much like the last GP's venue, but where the Circuit Gilles Villeneuve's flat layout allowed for the use of a low-drag car setup, this next location puts a premium on medium downforce and good traction.
The quaint town's festivities are different, too, from the city shindigs of Montreal. "With everyone camping around the track, the atmosphere is like going to a festival--everyone sitting out in the sun, drinking beer, listening to music up in the mountains," shares Daniel Ricciardo.
Here are other things to note for the race weekend:
1. The Red Bull Ring is the third-shortest circuit in the current calendar, but even with just nine corners to complete here, the drivers often find the perfect lap to be rather elusive. Just ask Lewis Hamilton: His banker lap in last year's final qualifying session was deleted because he exceeded track limits at Turn 8; his second run then came to a premature end when he spun under braking at Turn 2.
Continue reading below ↓
Recommended Videos
2. Also last year, Hamilton's troubles and teammate Nico Rosberg's ho-hum qualifying laps led to a surprise all-Williams front row for the race. Felipe Massa took pole position, but it was Valtteri Bottas who rounded out the top three come Sunday to record his first-ever F1 podium finish. Williams is scheduled to bring updates to its cars this weekend, so it'll be interesting to see if its drivers can replicate--or improve upon--their 2014 results.
3. Ferrari should also be there or thereabouts, despite its ever-present performance deficit to Mercedes. For all we know, the Italian squad's improved power unit may now have the output and drivability to challenge the German marque's. That doesn't mean, however, that it will be enough to overcome the advantage of the silver cars in the chassis and aero departments. If anything, the Scuderia should be wary of the threat from behind if it wants to be the first to capitalize on any Mercedes errors.
4. Will Red Bull and Toro Rosso have a better showing this year on their turf? Sorry to their fans, but recent results indicate otherwise. This circuit's layout will only highlight the weakness of the Renault power unit. Both teams will be lucky not to have any more blown engines or fried electric components in this race, because the penalties for exceeding the annual allocation of four power units per driver are very steep.
5. Not to mention very complicated, as we found out two weeks ago when Max Verstappen and Jenson Button activated fifth power-unit elements.
A power unit has six elements: internal-combustion engine, turbocharger, MGU-H, MGU-K, energy store, and control electronics. The use of any fifth power-unit element for the first time nets a 10-place grid drop; subsequent activations of other fifth power-unit elements incur five-place grid drops. The same applies when sixth power-unit elements are used, and so on.
When a driver doesn't qualify high enough to serve the full grid drop, the remaining grid penalty places are applied during the race as follows: one to five places, five-second time penalty; 6 to 10 places, 10-second time penalty; 11 to 20 places, drive-through penalty; over 20 places, 10-second stop-and-go penalty.
What did we say--very complicated, right? And F1's governing body and commercial rights holders wonder why viewership is down. Go figure.
At a glance: Austrian Grand Prix
Circuit: Red Bull Ring
Lap distance: 4.326km
Number of laps: 71
Dry-tire allocation: soft (prime), supersoft (option)
Qualifying: June 20 (Saturday), 8pm
Race: June 21 (Sunday), 8pm
*Schedules are in Philippine time