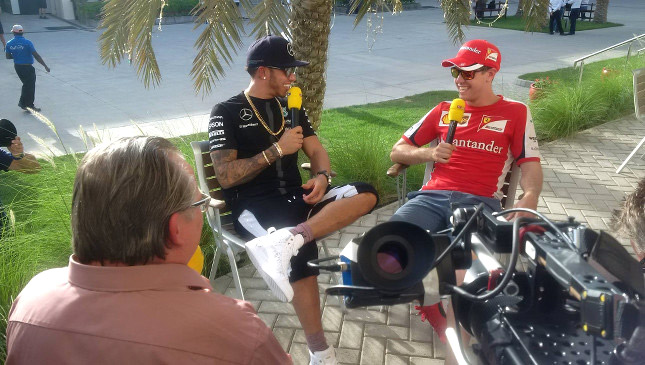 And just like that, we're now on the fourth round of the 2015 Formula 1 season. The next stop is Bahrain's international circuit in Sakhir, considered by the teams to be a very technical track with a highly abrasive surface. According to the official event preview on Formula1.com, "the way the circuit's width varies at the end of the different straights...allows for diverse racing lines, and the 15-corner design provides at least three genuine overtaking opportunities."
And may the drivers seize those opportunities, because we'll need help staying up while watching the late-night simulcast in our country. Here's your other need-to-know info for the race weekend.
1. The Bahrain Grand Prix was made a night race in 2014, so despite the desert setting, it will be quite cool when the race begins. Pirelli's dry-weather tires for the weekend are the white-banded medium (prime) and the yellow-banded soft (option)--the same tires used last time in China. Just to jog your memory of the previous race, Ferrari was able to keep up with the Mercs on the soft compound, but had trouble getting enough heat into the medium rubber.
2. Because Bahrain with its long straights is considered a power circuit, the use of a fresh or low-mileage power unit there would be ideal. We'll be paying attention to McLaren's cars, whose Honda turbo V6 hybrids are set to be run more aggressively after showing improved reliability in China. "Already from Bahrain we can power up a little bit the power unit," said team racing director Eric Boullier. "In Barcelona, we have another spec coming. We keep going and improving every race."
Continue reading below ↓
Recommended Videos
3. Kimi Raikkonen's six-podium tally in Bahrain is the current record, and if he fancies a win this year, it's not an impossibility. "Pole position isn't everything in Bahrain, the race having been won from P1 on the grid just four times out of 10," states the official event preview. It would do the Finn well to qualify higher on Saturday, though, because "no one has won the race from lower than fourth on the grid."
4. Even if you don't follow the sport religiously, perhaps it wouldn't surprise you that Lewis Hamilton has so far scored a hat trick of wins. As for 'Crashtor' Maldonado? Perhaps it wouldn't surprise you, too, that he has so far netted a hat trick of DNFs. To be fair, he was more victim than culprit in two out of those three incidents. Will the one-time GP winner--a fact many people tend to forget--finally see the checkered flag on Sunday? For his and the other drivers' sakes, we're fervently hoping he doesn't flip another car again, as he did to Esteban Gutierrez's Sauber last year.
5. Last year's staging saw one of the closest finishing gaps between first and second throughout the entire season: 1.085sec in favor of Hamilton over Nico Rosberg. If Rosberg manages to turn tables on his teammate this time around, it will be good news for him as well as for us. Can't let that 17-point deficit to the current leader get too big--and the rest of the year too predictable.
At a glance: Bahrain Grand Prix
Circuit: Bahrain International Circuit
Lap distance: 5.412km
Number of laps: 57
Dry-tire allocation: medium (prime), soft (option)
Friday free practice 1: April 17, 7pm to 8:30pm
Friday free practice 2: April 17, 11pm to 12:30am
Saturday free practice 3: April 18, 8pm to 9pm
Saturday qualifying: April 18, 11pm
Sunday race: April 19, 11pm
*Schedules are in Philippine time