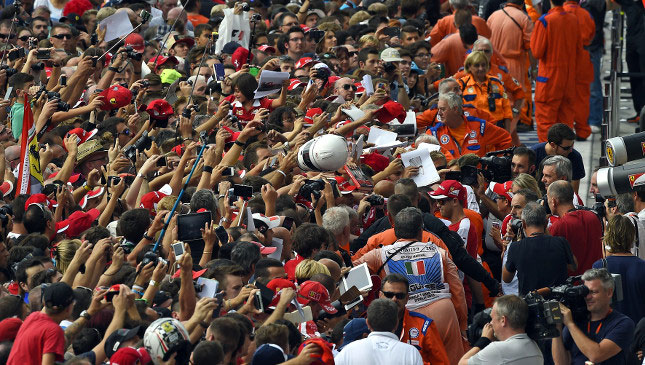 Crimson-flooded grandstands and wild, passionate cheers from the crowd could only mean one thing: The tifosi have come in droves to worship the Prancing Horse at the Temple of Speed.
Put simply, Formula 1 has arrived in Monza for the Italian Grand Prix. But while the allegiance of practically all race-goers here is with Ferrari, the F1 faithful still hold Monza in high regard for being the most-used venue in the history of the sport, and the fastest one on the calendar to boot.
According to Formula1.com, the fastest lap of Monza is 1:21.046, "which equates to a breathtaking 257kph average." This feat was achieved by Rubens Barrichello during the V10 era in 2004. Last year, during the first season of turbo-hybrid power units, Lewis Hamilton recorded the fastest race lap of 1:28.004, thus averaging roughly 237kph over one full tour of the circuit.
On to our preview...
1. There have been a number of driver confirmations leading up to the race weekend, so here's a list of who's staying where in 2016:
ADVERTISEMENT - CONTINUE READING BELOW ↓
Mercedes: Lewis Hamilton and Nico Rosberg
Red Bull: Daniel Ricciardo
Williams: Felipe Massa and Valtteri Bottas
Ferrari: Sebastian Vettel and Kimi Raikkonen
McLaren: Fernando Alonso
Force India: Nico Hulkenberg
Sauber: Marcus Ericsson and Felipe Nasr
Toro Rosso, Lotus, Manor and new entry Haas have not confirmed their drivers yet--and Lotus is a big what-if for 2016 considering its cash-related concerns at the moment. Do note that a team's lack of driver confirmation doesn't necessarily mean there are no drivers under contract. It's just that F1 contracts are about as breakable as a current-spec Honda or Renault power unit. Best wait for formal announcements.
2. Speaking of Honda- and Renault-propelled teams, those expecting power-unit-related grid penalties this weekend are the two McLarens, the two Red Bulls, and the Toro Rosso of Carlos Sainz Jr. This is especially bad news for McLaren: Just two weeks ago, both its cars underwent power-unit changes that would've amounted to a 105-place grid drop under the old penalty system. Fernando Alonso is now on his ninth engine, and there are still seven races left after Italy.
ADVERTISEMENT - CONTINUE READING BELOW ↓
Recommended Videos
3. Meanwhile, both Mercedes drivers are activating only their third power units for the coming race weekend. The reigning champion squad has also used its remaining seven development tokens to introduce a new-spec power unit that will advance fuel- and oil-related R&D for 2016. Oh, to be so far ahead of the pack...
It's all about @PET_Motorsports power for the #F1 W06 Hybrid beasts in #Monza this weekend, with some news from under the covers... (1/4)

— MERCEDES AMG F1 (@MercedesAMGF1) September 3, 2015
Our drivers will take their third Power Units of the season and it will be a new spec using our remaining 7 development tokens (2/4) #F1

— MERCEDES AMG F1 (@MercedesAMGF1) September 3, 2015
We've tactically pulled forward planned 2016 development to learn about a new spec of @PET_Motorsports fuel out on track! (3/4) #F1

— MERCEDES AMG F1 (@MercedesAMGF1) September 3, 2015
4. Ferrari has some upgrades, too, coming into its home race. "We have used three tokens to upgrade the engine for this race," said team principal Maurizio Arrivabene. "I don't want to say what we have done or which part of the engine we have changed, but obviously it's important for us here to do as much as we can to be competitive, and thus to increase the power and the torque of the engine."
He did add that a 19th Ferrari victory in Monza is a tough ask, because "the characteristics of Monza are similar to those of Spa. So, they are [less suited] to our car. This is not to say that we will throw in the towel and run away refusing to fight: We will go there trying to do our best. But we know we go there not being the team to beat."
ADVERTISEMENT - CONTINUE READING BELOW ↓
5. Finally, Pirelli has revealed the results of its investigations on the cause of Sebastian Vettel's tire blowout in Spa. The Italian tiremaker noted that in all the tires used over the course of the Belgian GP weekend, it had found 63 cuts--as opposed to "an average of 1.2 cuts per event" in the last 10 races and five test sessions. "All this indicates an anomalous amount of detritus on the track in Spa, with a consequent increased risk of encountering a foreign object," the company's official statement read.
Because of Vettel's one-stop strategy, the remaining tread thickness of his tires at the time of the blowout was down to 30%, making his tires more susceptible to being punctured by "even a small piece of debris." Pirelli maintained that "no problems have ever been discovered, underlining the fundamental solidity of the product."
At a glance: Italian Grand Prix
Circuit: Autodromo Nazionale Monza
Lap distance: 5.793km
Number of laps: 53
Dry-tire allocation: medium (prime), soft (option)
Qualifying: September 5 (Saturday), 8pm
Race: September 6 (Sunday), 8pm
ADVERTISEMENT - CONTINUE READING BELOW ↓
*Schedules are in Philippine time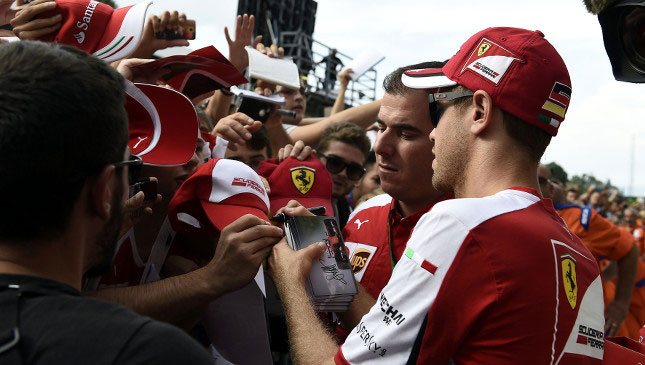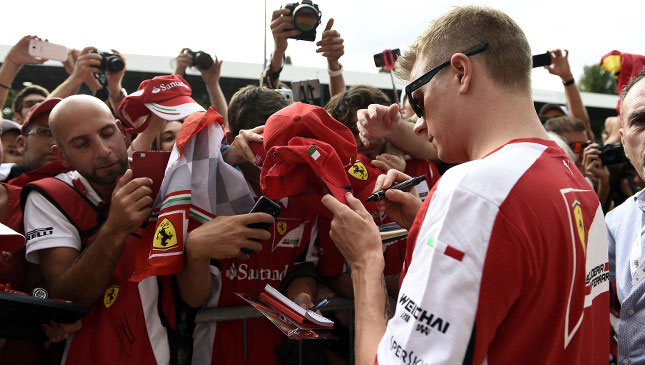 ADVERTISEMENT - CONTINUE READING BELOW ↓