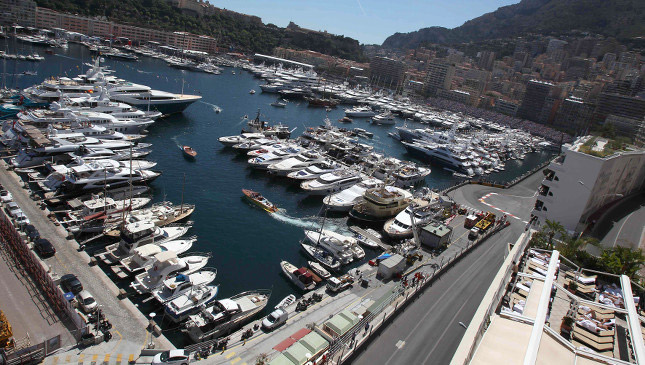 Heads-up: Round six of the 2015 Formula 1 season is happening this weekend at the ritziest venue on the calendar. Too bad trackside glamor and racing action are inversely proportional to each other in Monte Carlo, where the narrow street circuit presents limited overtaking opportunities.
Of late, the Circuit de Monaco has been Nico Rosberg's territory. The Finn-German driver, a resident of the principality from a young age, has won the last two stagings, and is looking to make it three in a row to reduce the 20-point gap to championship leader Lewis Hamilton in the standings.
Here's your need-to-know info for the F1 weekend:
1. Monaco was where Ayrton Senna first showed himself to be a real threat to the old guard after a scintillating wet-weather drive from 13th to second place. This was in 1984, when the Brazilian was a 24-year-old rookie driving for Toleman. Unsurprisingly, he eventually set the record for most Monaco wins with six victories. Graham Hill and Michael Schumacher trail Senna with five trophies each, followed by Alain Prost with four. If Rosberg wins this weekend's race, he'll be in the company of three-time victors Stirling Moss and Jackie Stewart.
ADVERTISEMENT - CONTINUE READING BELOW ↓
2. It takes a lot of personnel and equipment to stage the Monaco GP. Some stats from the FIA's event media kit: 2,248 protection tires, 21km of safety rails, 700m of Tecpro barriers, 20,000sqm of wire netting, nine cranes, 49 surveillance cameras, 743 fire extinguishers (one every 15m), 248 walkie-talkies, and 622 marshals. If that sounds like a lot, there's still a long list of emergency transport and medical professionals, not to mention the crews that have put together the track over the past couple of months.
Speaking of the track, Formula1.com reports that there has been a "minor realignment of Turns 12 to 14 (Tabac to the Swimming Pool), which means this year's lap will be 3m shorter than in 2014. As a result, Michael Schumacher's lap record, which has stood since 2004, will change hands on Sunday."
3. For the first time this year, Pirelli's supersoft rubber is available as the option tire. "Monaco has often been described as a circuit where overtaking is impossible, but we have seen in the past how tire strategy and degradation have often led to positions changing, including on-track overtaking," says Paul Hembery, the tiremaker's motorsport director. "In particular, the way that drivers use the new supersoft tire, with its notable performance advantage, will be crucial."
ADVERTISEMENT - CONTINUE READING BELOW ↓
Recommended Videos
4. Nine of the past 10 Monaco GPs have been won from P1, so qualifying is the most exciting part of the weekend--and sometimes the most controversial. Think back to 2014: In his second Q3 run, provisional pole-sitter Rosberg went off at Turn 5 (Mirabeau), causing a yellow flag that halted Hamilton's attempt to set a better time.
It smacks of Schumacher's Q3 caper in 2006, when he 'locked up' at Turn 17 (Rascasse) and parked his car on the exit, blocking the runners behind from finishing their hot laps. His move was deemed unsporting, and he was subsequently sent to the back of the grid. Rosberg, however, was found not guilty last year, much to Hamilton's displeasure. Any bets on who will make a slip-up--intentionally or not--this time around?
5. Finally, let's spare a moment for Jules Bianchi, the former Marussia driver who remains in a coma after sustaining severe head injuries during the 2014 Japanese GP. The Frenchman claimed two points in Monaco last year with a ninth-place finish. While still unconscious, he is now off life support and in a stable condition. We continue to hope for his recovery.
ADVERTISEMENT - CONTINUE READING BELOW ↓
At a glance: Monaco Grand Prix
Circuit: Circuit de Monaco
Lap distance: 3.340km
Number of laps: 78
Dry-tire allocation: soft (prime), supersoft (option)
Saturday qualifying: May 23, 8pm
Sunday race: May 24, 8pm
*Schedules are in Philippine time