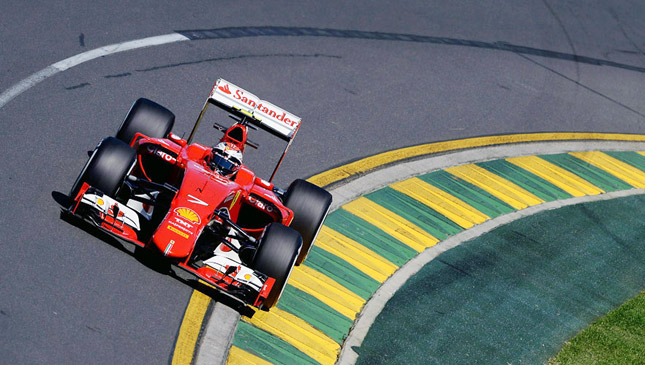 Hello, fellow Formula 1 fanatics. Our favorite high-octane weekend pastime is finally back. As usual, the season kicks off in Melbourne, Australia, and while the semi-permanent Albert Park Street Circuit isn't always a good indicator of ultimate performance, it will give us a rough idea of the teams' pecking order. The preseason tests indicate that Mercedes is still at the top of the order, but who will be its closest challengers?
Here are some talking points for this weekend's event.
1. Based on the official entry list, there will be a 20-car grid for 2015. That's two cars down from last year after Caterham's exit. The question, however, is if Manor Marussia will actually manage to race in Melbourne. It was only last week that the team confirmed its intention to race with a modified version of its 2014 car, which may or may not be able to comply with the 107% rule. According to this, a driver whose best Q1 lap is outside 107% of the fastest Q1 time will not be allowed to race. Exceptions may be granted to those who don't get in the 107% window, but have set acceptable times during practice.
ADVERTISEMENT - CONTINUE READING BELOW ↓
2. From 2010 to 2014, only once did the Australian GP winner go on to take the championship at the end of the season. That would be in 2011, when Red Bull Racing's Sebastian Vettel (who is now with Ferrari) took the first of 11 wins en route to a second drivers' title. Oddly, there was a reverse trend from 2000 to 2009: David Coulthard of McLaren (2003) and Giancarlo Fisichella of Renault (2005) were the only Melbourne victors who didn't go home with the drivers' trophy at year's end.
3. There will be an even split of five rookies and five champions this year. Two squads are running all-rookie tandems: Manor Marussia has enlisted Will Stevens (who had one race with Caterham last year at the Abu Dhabi GP) and Roberto Merhi, while Toro Rosso is fielding Carlos Sainz Jr. and Max Verstappen. Of note, both Toro Rosso drivers have racer fathers--the elder Sainz is a World Rally Champion, and Jos Verstappen is a former F1 driver with 106 race starts under his belt. Completing the list of 2015 rookies is Sauber's Felipe Nasr.
ADVERTISEMENT - CONTINUE READING BELOW ↓
Recommended Videos
On the flip side, two teams also have all-champion pairings: McLaren gets the grid's most experienced drivers in Jenson Button and Fernando Alonso, and Ferrari is counting on Sebastian Vettel and Kimi Raikkonen to rediscover the title-winning form they were missing in 2014. All this in an effort to depose defending champ Lewis Hamilton, who looks to have the best car still in Mercedes.
4. Unfortunately for Fernando Alonso fans, he's out of the running in the season opener. A summary in case you've missed our initial report: The Spaniard suffered a concussion when he crashed out during the second preseason test, and was advised by doctors to sit out Australia "to minimize the chances of second impact syndrome." He is aiming for a return to action in Malaysia. In the meantime, Kevin Magnussen will be taking his seat.
5. The McLaren-Honda partnership returns to Formula 1 after a 23-year absence. The alliance that blitzed the field in the late '80s and early '90s is entering 2015 with low expectations. It's likely that the Australian GP will be an extension of winter testing for the Woking squad. But remember: Red Bull had a woeful 2014 preseason, too--and yet it managed to take three race wins from a highly dominant Mercedes.
ADVERTISEMENT - CONTINUE READING BELOW ↓
Team
Driver
Mercedes
44 Lewis Hamilton (Great Britain)
6 Nico Rosberg (Germany)
Red Bull
3 Daniel Ricciardo (Australia)
26 Daniil Kvyat (Russia)
Williams
77 Valtteri Bottas (Williams)
19 Felipe Massa (Brazil)
Ferrari
5 Sebastian Vettel (Germany)
7 Kimi Raikkonen (Finland)
McLaren
14 Fernando Alonso (Spain)
22 Jenson Button (Great Britain)
20 Kevin Magnussen (Denmark)
Force India
27 Nico Hulkenberg (Germany)
11 Sergio Perez (Mexico)
Toro Rosso
33 Max Verstappen (Netherlands)
55 Carlos Sainz Jr. (Spain)
Lotus
8 Romain Grosjean (France)
13 Pastor Maldonado (Venezuela)
Manor Marussia
28 Will Stevens (Great Britain)
98 Roberto Merhi (Spain)
Sauber
9 Marcus Ericsson (Sweden)
12 Felipe Nasr (Brazil)
At a glance: Australian Grand Prix
Circuit: Albert Park Street Circuit
Lap distance: 5.303km
Number of laps: 58
Dry-tire allocation: medium (prime), soft (option)
Friday free practice 1: March 13, 9:30am to 11am
Friday free practice 2: March 13, 1:30pm to 3pm
Saturday free practice 3: March 14, 11am to 12nn
Saturday qualifying: March 14, 2pm
Sunday race: March 15, 1pm
*Schedules are in Philippine time