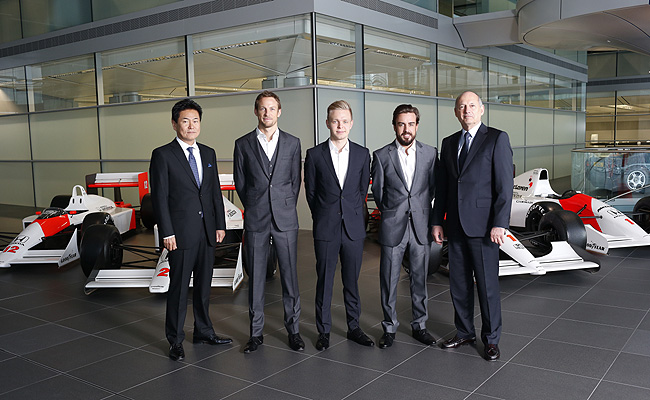 Now it can be officially told: Two-time Formula 1 champion Fernando Alonso will be driving for McLaren-Honda in the 2015 season, and joining him will be 2009 champion Jenson Button.
McLaren-Honda's confirmation of its driver lineup for next season relegates Kevin Magnussen to the role of the team's test and reserve driver.
According to McLaren chairman and chief executive officer Ron Dennis, the team signed Alonso only recently but chose not to announce it until it had re-signed Button as well.
"As a pair, he and Fernando are supremely experienced," said Dennis. "Fernando has started 234 grands prix, has converted 32 of those starts to victories, has stood on a grand prix podium 97 times, and has won the drivers' world championship not once but twice. He is a class act. As for Jenson, he is every bit as fit as Fernando but even more experienced: He has started 266 grands prix, has won 15 of them, and has stood on a grand prix podium 50 times. He, too, is an ex-world champion, and is one of the smoothest and fastest guys out there. To sum up, Fernando and Jenson have started a combined total of precisely 500 grands prix between them--a mighty aggregate--and have won 47 of them."
ADVERTISEMENT - CONTINUE READING BELOW ↓
ADVERTISEMENT - CONTINUE READING BELOW ↓
Recommended Videos
McLaren reportedly approached Alonso more than a year ago, and asked him to take part "in a very active way" in the return of its partnership with Honda.
"McLaren-Honda's repeated and open desire, perseverance and determination in making it possible for me to join their exciting renewed partnership, have been some of the main factors that made me take this decision, not forgetting the most important factor of all: We share a common objective and expectations, and there is a very solid future, with confidence, ahead," Alonso added.
As for Button, he's looking forward to rekindling his association with Honda, having driven F1 cars powered by its engines for six seasons.
"Looking forward, I know the Honda guys well, having driven Formula 1 cars powered by their engines from 2003 to 2008," said Button. "I have a huge amount of respect and admiration for them, and promise to give 100% to make their partnership with McLaren a success."
ADVERTISEMENT - CONTINUE READING BELOW ↓