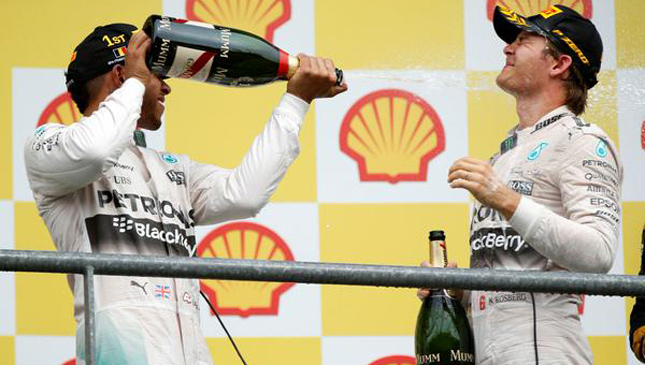 After a long break, Formula 1 returned to the fabled Spa-Francorchamps track in Belgium. This high-speed track, with its tricky dips and crests, always makes for good racing, though one can't help but wonder if the FIA ought to add barriers at Eau Rouge, given how often drivers cut the inside of the corner with all four wheels off the track.
The weekend started off with a bang--that is to say, a lot of tires went "bang," including Nico Rosberg's rear right, which led to a nasty slide at over 160kph in practice. But aside from that isolated mishap, Mercedes was dominant in all sessions, with their "dipped" rear wing paying massive dividends on this low-downforce track.
Lewis Hamilton claimed pole in qualifying over Rosberg by nearly half a second, his astonishing pace coming mostly in the middle sector of the track (where all the fiddly bits are). Nico noted that he was closer to Lewis on the faster portions of the lap, where he could "put his foot down." Er, okay.
Ferrari and Red Bull both had promising starts to their weekends, showing excellent pace during the practice sessions. It was an entirely different story come qualifying, however, as they were eclipsed by Lotus and Williams. While Daniel Ricciardo managed to put his Red Bull up in sixth, teammate Daniil Kvyat missed out on Q3. Ferrari's Saturday was particularly disastrous, with Kimi Raikkonen's engine losing oil pressure in Q2, and Sebastian Vettel making an uncharacteristic mistake on his final Q3 run.
Continue reading below ↓
Recommended Videos
Sergio Perez was the big surprise of qualifying, propelling his Force India up into fifth place behind Lotus's Romain Grosjean and Williams's Valterri Bottas. With Grosjean moved back to ninth due to a gearbox-change penalty--having lost a gearbox in practice--he would start on the second row of the grid.
Come race day, a few more things went bang. Nico Hulkenberg, who'd missed out on Q3 due to the mix-up in Q2 following Kimi's on-track breakdown, received conflicting messages from the Force India garage about whether his car was working or not. He soon found out, sitting on the starting grid with a dead car. Carlos Sainz retired soon after, on the second formation lap before the restart. He would start from the pits a lap late, only to retire much later in the race.
The restart was hectic. Thanks to new rules prohibiting coaching on race starts, a few runners were noticeably handicapped, with Rosberg in particular dropping several places. Perez was, briefly, in first place as he tried to edge around Hamilton a few corners from the start, but the Brit soon pulled away and built up a comfortable cushion that he would keep over everyone else for the duration of the race. Ricciardo rounded up the top three, but would drop out of contention by stopping for tires very early during Lap 8.
Rosberg would eventually join his teammate up front after the pits had sorted themselves out. There, they would stay until the end of the race, with Hamilton simply pulling away with successive fast laps every time Nico closed the gap.
Behind them, the race was a bit more exciting. Grosjean, Ricciardo and Perez battled for third, with the Lotus driver finally besting the other two halfway through the race thanks to some impressive overtakes. His teammate, Pastor Maldonado, on the other hand, had retired during the second lap, not having time to crash into anybody else. Ricciardo's Red Bull would also succumb to the heat later in the race, ruining an otherwise good run for the Australian.
As the pit stops cycled through, Vettel found himself in third place by Lap 25, running amazingly competitive times on tires he'd put on back on Lap 14. Some canny defensive driving, combined with the inherent speed of the Ferrari engine, enabled him to hold off Grosjean until his right rear tire exploded, just one lap from the finish line--allowing the plucky Frenchman to clinch a podium finish behind the Mercs. A mad scramble for fourth ensued afterward, with Kvyat finishing fourth.
Kvyat had an outstanding race, with lots of on-track action, overtakes, and a good save as he went sideways on worn tires right at the pit entrance. He was followed home by Perez, Felipe Massa and Raikkonen. Massa's sixth place was something of a consolation for Williams, as the cars seemed to lack pace all race long, with Bottas also suffering the humiliation of having a mismatched set of tires put on his car during a botched pit stop. He would serve a drive-through penalty, before continuing on the same set of tires. Bottas ended up in ninth, behind Toro Rosso's Max Verstappen, whose miraculous climb from 18th to eighth went nearly unnoticed during the closing moments. Marcus Ericsson rounded out the points-paying positions in 10th, due more to attrition than anything else.
The team with the worst weekend had to be McLaren Honda. After the indignity of serving over 105 grid penalties due to engine changes, Jenson Button's ERS was not working properly, whereas Fernando Alonso simply didn't have enough battery charge to maintain his momentum. Both cars finished behind Vettel, despite the latter not finishing the race! While the power upgrades to their Honda engines were evident in the slower sections of the track, the lack of electric boost on the long straights was even more telling. Given how their year is going, however, is it really surprising?
So, no surprises on both ends of the field. The middle, however, was a different story entirely, keeping people guessing until the very last minute as to who the best of the rest would be--so much so that the race director nearly forgot to cut to the Mercs as they crossed the line!
With this race in the bag, Mercedes has reasserted its dominance. Hamilton has his record for most pole positions in a season, while extending his lead over Nico to 28 points. Vettel drops further back thanks to his retirement, and while, at this point, several drivers could still win the title, there's little doubt that the champion will be one of the Merc drivers. On to Monza, then.
Clippings from the Belgian Grand Prix
* Fastest lap: N. Rosberg, 1:52.416 (Lap 34)
* Team radio talk: "Something's broken," said Kimi Raikkonen as his Ferrari sputtered to a halt in qualifying.
* Celebrity moment: Sorry, guys. Lewis's new lady, Rihanna, didn't make an appearance this time.
* Set your clocks: Pastor Maldonado's bizarre crash in practice has been duly recorded here.
* Stat attack: The Belgian GP was Ferrari's 900th race. The more intriguing stat, however, is McLaren-Honda's 105-place grid penalty, the highest ever given in a single race.
* Top tweet: A lot of jokes were made regarding Valtteri Bottas's pit-stop mix-up, and most can be summed up thusly...
New job available at Williams after the #BelgianGP. Recognizing colors is a must. pic.twitter.com/x2wPnSCK1H

— Giedo van der Garde (@GvanderGarde) August 23, 2015
Pit Stop Infographic from the #F1 #BelgianGP pic.twitter.com/vmU7BnG9R4

— Pirelli Motorsport (@pirellisport) August 25, 2015
* Quote of the race: "Bullshit!" Sebastian Vettel reacted to Pirelli's explanation that his tire failure was the result of doing too many laps on the tires. The Scuderia insisted that a single pit stop was always part of their strategy for the race and had been cleared by their adviser from Pirelli. Many drivers, however, including Nico Rosberg, who wasn't satisfied with Pirelli's explanation of his own tire failure in practice, are calling for action to be taken regarding the issue.
Belgian Grand Prix race results
Finishing position
Driver
Starting position
Time/Gap
1
L. Hamilton (Mercedes)
1
1hr 23:40.387
2
N. Rosberg (Mercedes)
2
2.058
3
R. Grosjean (Lotus)
9
37.988
4
D. Kvyat (Redbull)
12
45.692
5
S. Perez (Force India)
4
53.997
6
F. Massa (Williams)
6
55.283
7
K. Raikkonen (Ferrari)
16
55.703
8
M. Verstappen (Toro Rosso)
18
56.076
9
V. Bottas (Williams)
3
+1'01.040
10
M. Ericsson (Sauber)
13
+1'31.234
11
F. Nasr (Sauber)
14
+1'42.311
12
S. Vettel (Ferrari)
8
+1 lap
13
F. Alonso (Mclaren Honda)
20
+1 lap
14
J. Button (Mclaren Honda)
19
+1 lap
15
R. Merhi (Marussia)
17
+1 lap
16
M. Stevens (Marussia)
15
+1 lap
DNF
C. Sainz Jr. (Toro Rosso)
10
+1 lap
DNF
D. Ricciardo (Red Bull)
5
DNF
P. Maldonado (Lotus)
7
DNF
N. Hulkenberg (Force India)
11
BEL
Driver standings
Team standings
Pos
Driver
Points
Team
Points
1
L. Hamilton
227
Mercedes
426
2
N. Rosberg
199
Ferrari
242
3
S. Vettel
160
Williams
161
4
K. Raikkonen
82
Redbull
108
5
F. Massa
82
Lotus
50
6
V. Bottas
79
Force India
49
7
D. Kvyat
57
Toro Roso
35
8
D. Ricciardo
51
Sauber
23
9
R. Grosjean
38
McLaren
17
10
M. Verstappen
26
Marussia
0
11
S. Perez
25
12
N. Hulkenberg
24
13
F. Nasr
16
14
P. Maldonado
12
15
F. Alonso
11
16
C. Sainz
9
17
M. Ericsson
7
18
J. Button
6
19
R. Merhi
0
20
W. Stevens
0