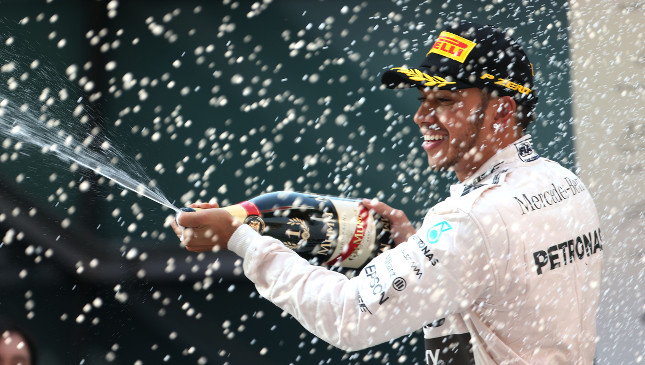 If you haven't seen the Chinese Grand Prix, we're informing you right now that the finishing gaps on the results table below are misleading. For a while, it did seem like the Ferraris would threaten at least one of the Mercs, but in reality, a safety-car period during the last three laps was what closed up the top six finishers.
At the front end, the top three qualifiers maintained their positions off the line. Kimi Raikkonen, however, was a man on the move--instead of falling backwards as he had done in the first two races, he quickly overtook the Williams pair without incident, and was running fourth by the exit of Turn 3.
Ferrari made the first move to challenge Mercedes at the end of Lap 13, pitting Sebastian Vettel for a brand-new set of option tires. Mercedes brought in Lewis Hamilton on the next lap, also for new options, before Nico Rosberg and Raikkonen followed suit at the end of Lap 15.
During this stint, Vettel was seemingly keeping the front-runners honest as the Mercs drove at a tire-conserving pace--to the point where Rosberg, feeling his teammate was intentionally backing him up to Vettel, got on the radio and told the team they needed to pick up the pace. Ferrari tried to take advantage of this by upping the pressure again, putting Vettel on prime tires at the end of Lap 30. Rosberg had no choice but to cover him.
Continue reading below ↓
Recommended Videos
Hamilton came alive amid all this, doing a series of fast laps before switching to prime tires at the end of Lap 33. Both Mercs pushed ahead on the harder compound--and instead of hustling them, Vettel suddenly had to be mindful of his teammate, who was closing up a four-second gap on tires that were four laps fresher.
Meanwhile, the midfield saw its share of action, too, but it was the three-way fight between Pastor Maldonado, Jenson Button and Fernando Alonso at the back of the grid that really drew attention. As with most things involving Maldonado, it ended in tears--only it was Button who was at fault this time with a misjudged overtaking attempt on the Lotus driver.
The focus was then on the Ferrari showdown. Unfortunately for Raikkonen, just when he had gotten within 1.5sec of Vettel on Lap 54, Max Verstappen suffered an engine failure on the main straight. The last three laps were thus run under the safety car following the marshals' difficulties in getting the Toro Rosso off the track. Before the safety-car period, Hamilton had around nine seconds on Rosberg and 20 seconds on Vettel.
All this meant that the most exciting battle of the weekend was the post-race spat between Hamilton and Rosberg. The full transcript of the exchange is here.
Clippings from the Chinese Grand Prix
* Fastest lap: Lewis Hamilton, 1:42.208 (Lap 31)
* Rookie on the run: In China as in Australia, Max Verstappen retired due to a car failure while running in a points-scoring position. The kid's got skills and nerve. Said Sky commentator Martin Brundle: "That Verstappen boy will be in a world-championship-winning team by the age of 20."
* Team radio talk: Kimi Raikkonen once again got grumpy in his hurry to catch his teammate. "Come on, get that McLaren out of the way!" Maybe the Iceman will get a nice ditty out of his sound bite after someone did a mix of Sebastian Vettel's "blue flag, blue flag" transmission from Malaysia.
* Epic fail: Toss-up between Jenson Button, who did a Maldonado on Maldonado, and the Chinese marshals, who had all sorts of trouble getting Verstappen's Toro Rosso through a gap on the pit wall.
* Small mercies: Both McLarens did manage to finish a full race for the first time since the team's switch to Honda propulsion.
* Celebrity moment: Aside from two-time Olympic gold medalist Edwin Moses conducting the podium interviews, former tennis player and two-time Grand Slam champion Li Na was also seen enjoying the action.
* Top tweet: Max Chilton, now part of the F1 viewership rather than the F1 grid, shared our sentiments as the marshals struggled with Verstappen's car:
That's it guys you just hammer that front wing into a concrete wall twice! #ouch

— M A X Chilton (@maxchilton) April 12, 2015
* Quote of the race: It has to be Hamilton's response to Rosberg during the post-race conference. "My job's to manage the car and bring the car home as healthy and as fast as possible--and that's what I did. I didn't do anything intentionally to slow any of the cars up. I just was focusing on myself. If Nico wanted to get by, he could have tried, but he didn't."
Chinese Grand Prix race results
Finishing position
Driver
Starting position
Time/Gap
1
L. Hamilton (Mercedes)
1
1hr 39:42.008
2
N. Rosberg (Mercedes)
2
+0.714
3
S. Vettel (Ferrari)
3
+2.988
4
K. Raikkonen (Ferrari)
6
+3.835
5
F. Massa (Williams)
4
+8.544
6
V. Bottas (Williams)
5
+9.885
7
R. Grosjean (Lotus)
8
+19.008
8
F. Nasr (Sauber)
9
+22.625
9
D. Ricciardo (Red Bull)
7
+32.117
10
M. Ericsson (Sauber)
10
+1 lap
11
S. Perez (Force India)
15
+1 lap
12
F. Alonso (McLaren)
18
+1 lap
13
C. Sainz (Toro Rosso)
14
+1 lap
14
J. Button (McLaren)*
17
+1 lap
15
W. Stevens (Marussia)
19
+2 laps
16
R. Merhi (Marussia)*
20
+2 laps
17/DNF
M. Verstappen (Toro Rosso)
13
DNF
P. Maldonado (Lotus)
11
DNF
D. Kvyat (Red Bull)
12
DNF
N. Hulkenberg (Force India)
16
*J. Button (McLaren) and R. Merhi (Manor Marussia) were both given five-second time penalties after the race--Button for causing a collision, and Merhi for failing to meet the minimum time under the safety-car period.
CHN
Driver standings
Team standings
Pos
Driver
Points
Team
Points
1
L. Hamilton
68
Mercedes
119
2
S. Vettel
55
Ferrari
79
3
N. Rosberg
51
Williams
48
4
F. Massa
30
Sauber
19
5
K. Raikkonen
24
Red Bull
13
6
V. Bottas
18
Toro Rosso
12
7
F. Nasr
14
Force India
7
8
D. Ricciardo
11
Lotus
6
9
R. Grosjean
6
McLaren
0
10
N. Hulkenberg
6
Manor Marussia
0
11
M. Verstappen
6
12
C. Sainz
6
13
M. Ericsson
5
14
D. Kvyat
2
15
S. Perez
0
16
J. Button
0
17
F. Alonso
0
18
R. Merhi
0
19
W. Stevens
0
20
P. Maldonado
0