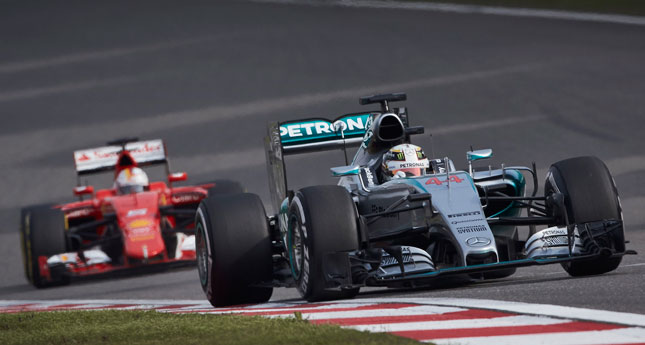 We hate to bring some of you back down to earth, guys, but Ferrari's shock win two weeks ago--the result of scorching weather, low tire degradation, genuine car performance, flawless driving, and spot-on pit strategy--doesn't spell the end of Mercedes dominance just yet. Formula 1's current 'it' team is expected to enjoy a business-as-usual run in Shanghai, thanks to cooler conditions and the Mercedes-suited nature of the track. And if Lewis Hamilton's past success here is anything to go by, it's very likely he'll have extended his championship lead come sundown on Sunday.
Not that another Hamilton win is automatically a bad thing. As long as it's not a runaway victory and we'll see plenty of on-track battles, we won't have any complaints. Here's what we're keeping an eye on this weekend:
1. We're on to the third race of 2015, so if Nico Rosberg intends to keep his title chances alive, now's the time to switch it on. He arrives in China at a slight disadvantage to his teammate in terms of momentum and confidence--after all, Hamilton is the most successful driver in Shanghai with three wins, four pole positions, and most laps led. But Rosberg has triumphed here, too. His 2012 victory was his maiden GP win as well as Mercedes's first since returning to F1 as a works team.
Continue reading below ↓
Recommended Videos
2. Speaking of disadvantaged teammates, Kimi Raikkonen is due a good result after difficult outings in Australia and Malaysia. Of the Ferrari drivers, he's actually the more noteworthy performer so far during practice sessions, with very strong and consistent race-simulation runs. His current points tally (12, putting him fifth in the standings) certainly doesn't reflect the true potential of his car and what he can do with it. Fingers are crossed he survives Shanghai's perilous first corner, which goes on and on and on...
3. If that opening corner is long, the straights of this circuit require a higher-degree adjective--something like "everlasting." "I drove here as a kid, all massive afro and enthusiasm, and trust me, it was the sort of straight where I'd definitely have been reaching for a book if I'd had one," Daniel Ricciardo quips.
How big will Mercedes's straight-line advantage be on those lengthy stretches? Will other Mercedes-powered cars be as strong? Does the much-improved Ferrari power unit have enough grunt to keep up? And can Renault and Honda do anything to limit their power deficiencies?
4. Another question: Has Ferrari deposed Williams as the closest challenger of Mercedes? Valtteri Bottas doesn't think so, and he believes that his finishing gap of over a minute behind Sebastian Vettel in Malaysia was down to the weather rather than to a massive chasm in performance. "This track should be better for us, and we do expect to be closer here to Ferrari and Mercedes," he states. "I expect the conditions to be better here, and we also have some aero updates which will hopefully work as planned." Let's see if that's the case.
5. Red Bull's story at the moment: from three race wins in 2014 to scrapping for points in 2015, and from beating Mercedes to getting beaten by Toro Rosso! But if Toro Rosso ends up regularly beating the senior team this year, it won't be the first time it's happened. The Faenza-based squad outscored Red Bull in 2008, and also took its first (and only) GP win that year, ahead of Red Bull's 2009 maiden victory in China.
At a glance: Chinese Grand Prix
Circuit: Shanghai International Circuit
Lap distance: 5.451km
Number of laps: 56
Dry-tire allocation: medium (prime), soft (option)
Saturday free practice 3: April 11, 12nn to 1pm
Saturday qualifying: April 11, 3pm
Sunday race: April 12, 2pm
*Schedules are in Philippine time