Despite missing out on pole when Saturday qualifying was red-flagged in the final minutes due to Daniil Kvyat's massive crash, Lewis Hamilton made an aggressive start from P2 to nab the lead from Nico Rosberg and win the Japanese GP. With his second Suzuka triumph and 41st career victory, he equaled Ayrton Senna on the all-time wins list and also extended his championship lead to 48 points.
Exiting Turn 1, pole-sitter Rosberg was edged slightly wide by his teammate in a move he deemed fair, but which compromised his momentum and lost him positions to Sebastian Vettel and Valtteri Bottas. Still, it could have been worse: Felipe Massa, Daniel Ricciardo and Sergio Perez, all starting in single file on the odd side of the grid, got into some wheel-banging well before the first corner, and suffered tire punctures as a result.
The normally conservative Williams team was first among the front-runners to call a pit stop on Lap 12, with Bottas coming in for option tires to avoid the undercut from Rosberg. The strategy worked and he retained track position when the German made his own stop for prime tires on Lap 16. Rosberg, however, overtook the Finn going into the chicane a lap later, and moved further up ahead of Vettel via undercut on Lap 30. Bottas himself fell victim to the undercut and slipped back to P5 when Ferrari took initiative on the second round of stops for Kimi Raikkonen.
ADVERTISEMENT - CONTINUE READING BELOW ↓
The closest Vettel got to challenging Rosberg was when the pair encountered a throng of backmarkers in the final stages of the race. In the end, the lead Ferrari driver finished under two seconds behind his compatriot--but nearly 21 seconds behind Hamilton.
The rest of the top 10 were as follows: Nico Hulkenberg, who started P13 after serving his grid-place penalty from the previous event; the Lotus tandem of Romain Grosjean and Pastor Maldonado; and Toro Rosso rookies Max Verstappen and Daniil Kvyat. Notable absences from the points-scoring group were the two Red Bulls. Ricciardo never recovered from being a lap down after his early mishap, and Kvyat had to start from the pit lane after wrecking his car the day before.
Also missing out on points was McLaren's Fernando Alonso, who made a number of eyebrow-raising observations on the team radio regarding the uncompetitiveness of his Honda power unit. He and Jenson Button did run to the checkered flag for a change, and in a bone-dry race with no safety-car interruptions, only Sauber's Felipe Nasr didn't make it to the end. He did complete over 90% of the race distance, though, so he was classified 20th and last, making it a complete grid of classified finishers for this event.
ADVERTISEMENT - CONTINUE READING BELOW ↓
Recommended Videos
Clippings from the Japanese Grand Prix
* Fastest lap: Lewis Hamilton, 1:36.145 (Lap 33)
* Team radio talk: On the face of it, Fernando Alonso's complaints that McLaren's run was "embarrassing" and the Honda power unit was like a "GP2 engine" didn't sound particularly damning--these are things we've known all year. But this is Honda country and Honda land (the Suzuka Circuit is owned by the Japanese manufacturer), and the top brass were in attendance. "There's a man trying to get fired, I reckon," Sky F1 commentator Mark Brundle noted.
* Stat attack: This is the first time Jenson Button finished out of the points in Suzuka, but the Brit still has a 100% finishing record on this circuit. Meanwhile, Sebastian Vettel notched up his seventh podium finish here--meaning he has never been outside the podium since he first raced on this track in 2009.
* Top tweet: Gotta love how dedicated the Japanese cosplayers are:
ADVERTISEMENT - CONTINUE READING BELOW ↓
God damn it, Kimi. What are you doing? You're meant to be on the grid! pic.twitter.com/5LcchkVaHh

— WTF1 (@wtf1couk) September 27, 2015
* Pirelli tire stats: Despite the lack of dry Friday running, most of the drivers were able to make a two-stopper work.
Our #PitStop strategy breakdown from the #F1 #JapaneseGP! Our Prediction was in line with @LewisHamilton's strategy! pic.twitter.com/Je74AeLOiT

— Pirelli Motorsport (@pirellisport) September 27, 2015
* Quote of the race: McLaren big boss Ron Dennis was obviously unhappy over Alonso's outspoken comments over the team radio, and he made it abundantly clear post-race: "I'm not going to condone those sort of things. It doesn't show the professionalism I would like all our drivers to show. He is in the car, he is frustrated, and his remarks to the technical staff were not a particularly constructive way to communicate with everybody. The way for me to deal with drivers is through the management channels...or in certain circumstances to talk to them myself. But whatever I choose to do, however it is done, it remains a team matter."
Photos from Mercedes AMG Petronas and Scuderia Ferrari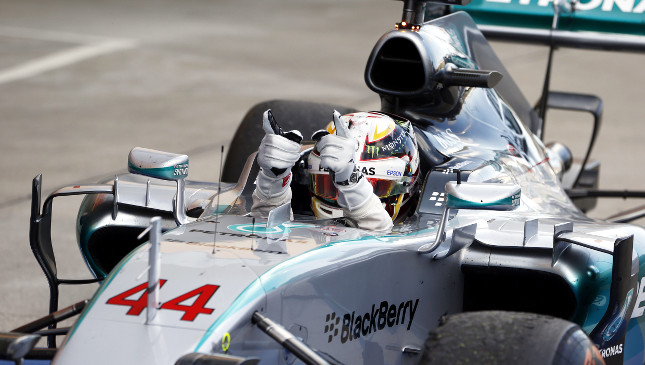 ADVERTISEMENT - CONTINUE READING BELOW ↓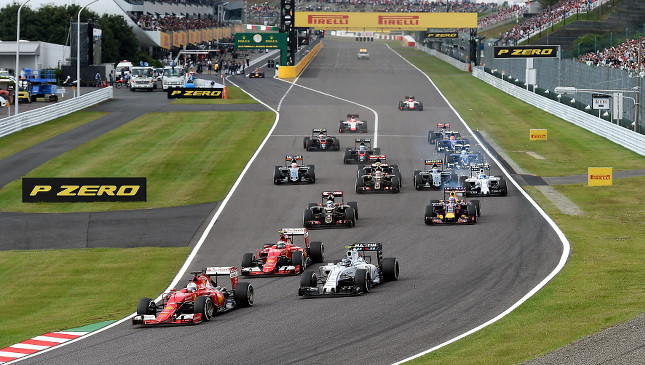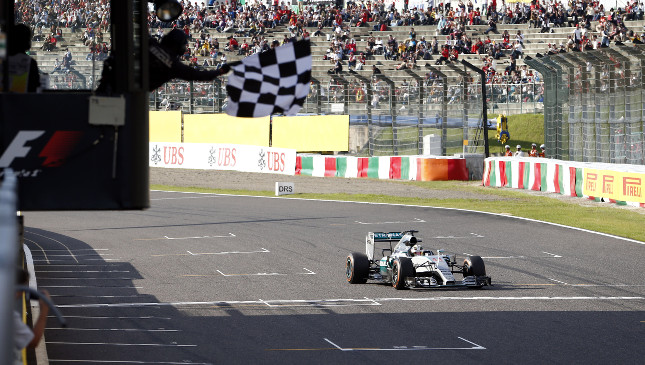 ADVERTISEMENT - CONTINUE READING BELOW ↓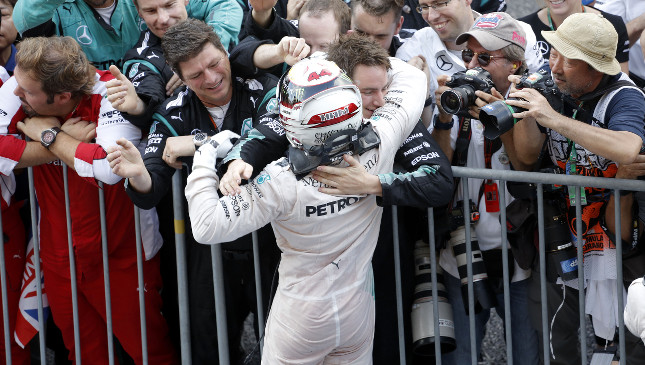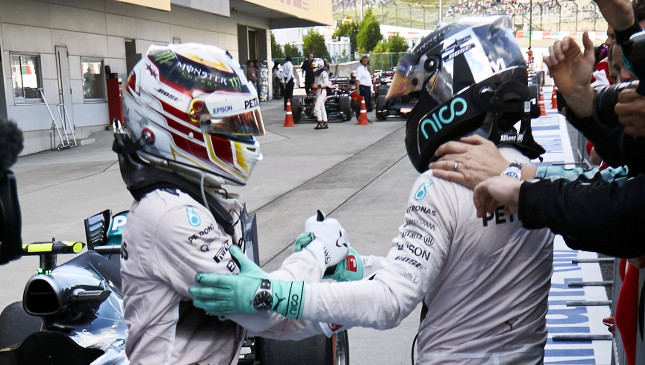 ADVERTISEMENT - CONTINUE READING BELOW ↓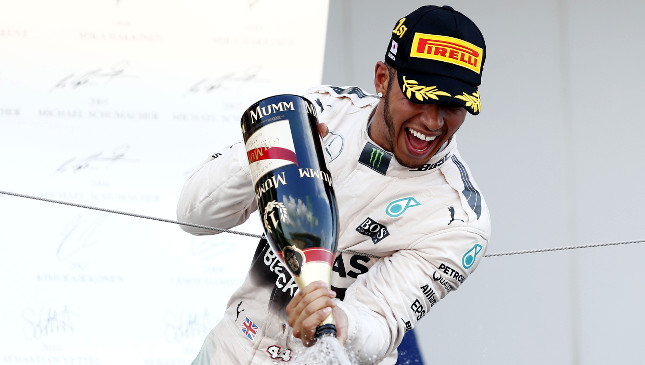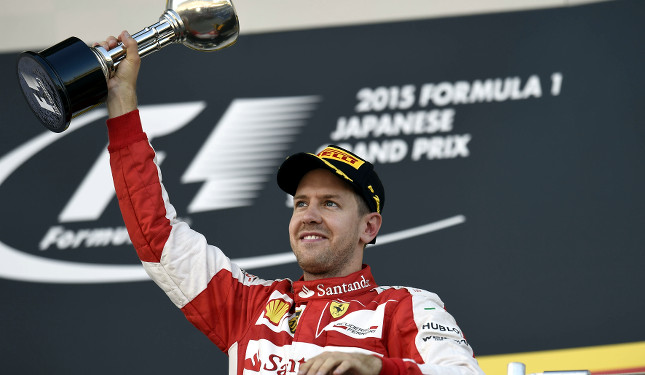 ADVERTISEMENT - CONTINUE READING BELOW ↓
Japanese Grand Prix race results
Finishing position
Driver
Starting position
Time/Gap
1
L. Hamilton (Mercedes)
2
1hr 28:06.508
2
N. Rosberg (Mercedes)
1
+18.964
3
S. Vettel (Ferrari)
4
+20.850
4
K. Raikkonen (Ferrari)
6
+33.768
5
V. Bottas (Williams)
3
+36.746
6
N. Hulkenberg (Force India)*
13
+55.559
7
R. Grosjean (Lotus)
8
+1:12.298
8
P. Maldonado (Lotus)
11
+1:13.575
9
M. Verstappen (Toro Rosso)*
17
+1:35.315
10
C. Sainz (Toro Rosso)
10
+1 lap
11
F. Alonso (McLaren)
12
+1 lap
12
S. Perez (Force India)
9
+1 lap
13
D. Kvyat (Red Bull)
PL
+1 lap
14
M. Ericsson (Sauber)
15
+1 lap
15
D. Ricciardo (Red Bull)
7
+1 lap
16
J. Button (McLaren)
14
+1 lap
17
F. Massa (Williams)
5
+2 laps
18
A. Rossi (Marussia)
19
+2 laps
19
W. Stevens (Marussia)
18
+3 laps
20
F. Nasr (Sauber)
16
DNF
* Served three-place grid penalties; Hulkenberg caused a collision in the previous event, while Verstappen parked his car in a dangerous place on track during qualifying.
JAP
Driver standings
Team standings
Pos
Driver
Points
Team
Points
1
L. Hamilton
277
Mercedes
506
2
N. Rosberg
229
Ferrari
337
3
S. Vettel
218
Williams
208
4
K. Raikkonen
119
Red Bull
139
5
V. Bottas
111
Force India
77
6
F. Massa
97
Lotus
60
7
D. Ricciardo
73
Toro Rosso
44
8
D. Kvyat
66
Sauber
26
9
R. Grosjean
44
McLaren
17
10
S. Perez
39
Marussia
0
11
N. Hulkenberg
38
12
M. Verstappen
32
13
F. Nasr
17
14
P. Maldonado
16
15
C. Sainz
12
16
F. Alonso
11
17
M. Ericsson
9
18
J. Button
6
19
R. Merhi
0
20
W. Stevens
0
21
A. Rossi
0