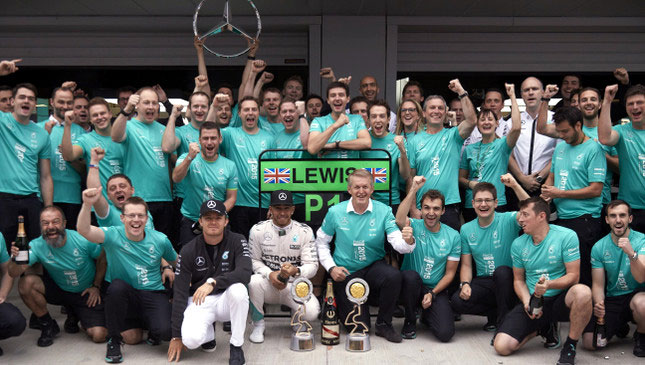 One title down, one more to go.
With four races left to run, Mercedes is racing toward a conclusion that has seemed inevitable from well before halfway through the season.
Initially, it looked like Lewis Hamilton and the Silver Arrows would have to wait at least a race or two. Nico Rosberg in the other Mercedes took pole position in Russia with a fine lap, then got away cleanly off the line and around the first couple of corners to retain the lead over his teammate. It was a different story for those behind: Valtteri Bottas and Sebastian Vettel were immediately overtaken by Kimi Raikkonen, who bolted from P5 to P3, while P6 starter Nico Hulkenberg spun and collected Marcus Ericsson, ending their race and bringing out the safety car. The incident also caused a puncture for Max Verstappen.
Racing resumed on Lap 4, with Bottas immediately reclaiming P3 from his fellow Finn. The next few laps saw a number of teammates running within a second of each other: Rosberg versus Hamilton, Raikkonen versus Vettel, and Kvyat versus Ricciardo. Unfortunately, Rosberg began having throttle-pedal issues that eventually put him out of the race and Hamilton in the lead on Lap 7.
ADVERTISEMENT - CONTINUE READING BELOW ↓
ADVERTISEMENT - CONTINUE READING BELOW ↓
Recommended Videos
Five laps later, Romain Grosjean triggered another safety-car period when he lost his car exiting Turn 3, and went into the barriers.
Among those to make early stops at this point were Sergio Perez and Daniel Ricciardo, who had started P7 and P10, respectively. The lead drivers opted to stay out because it was too early to pit under a one-stop strategy. When the safety car pulled in on Lap 17, Vettel quickly passed Raikkonen and set about closing the gap to Bottas.
The German was less than a second behind the Finn when the latter pitted on Lap 27 for soft tires. It wasn't the ideal for Williams: The timing of the stop put Bottas back out in traffic, but he was already losing too much time on his worn set of supersoft rubber. He ended up conceding position to Vettel, who had his tire change on Lap 31. The good news was he kept his lead over Raikkonen after the latter pitted on Lap 32. Aside from fighting each other, the two also had to get through early-stoppers Perez and Ricciardo to claim the final podium position.
ADVERTISEMENT - CONTINUE READING BELOW ↓
It was rather ho-hum for most of the middle stage, with the race losing a couple more drivers. Carlos Sainz, who was cleared to race by the doctors after a 46G crash during Saturday free practice that landed him in the hospital overnight, found himself in the barrier once again due to brake issues on his Toro Rosso. As for Red Bull, a broken suspension ended Daniel Ricciardo's chances of seeing the checkered flag.
Predictably, the last handful laps were a mad dash for P3 as Perez, on older soft tires, tried to fend off the Finns. It looked like his efforts were futile when the two passed him on the penultimate lap--but on the final lap, Raikkonen made an ambitious dive down the inside of Turn 4 and tangled with Bottas. The Williams car was too badly damaged to continue, while Raikkonen limped around to claim P5 and Perez took a well-deserved P3.
ADVERTISEMENT - CONTINUE READING BELOW ↓
It wasn't over yet, though. The stewards deemed Raikkonen guilty of causing a collision, and gave him a 10-second stop-and-go penalty that was converted into a 30-second time penalty. With one Ferrari driver finishing second and the other dropping from P5 to P8, Mercedes then outscored its closest challenger in the team standings by three points--which was exactly what it needed to clinch the constructors' title in Russia.
Rosberg's retirement also elevated Vettel to second in the 2015 drivers' points tally, and Hamilton's 42nd career victory moved him level with Vettel on the all-time wins list. To take his third drivers' championship in the next race, the Briton will have to outscore Vettel by nine points and Rosberg by two points.
Clippings from the Russian Grand Prix
* Fastest lap: S. Vettel, 1:40.071 (Lap 51).
* Team radio talk: Fernando Alonso gets the award for the second race running. Told he would be racing Felipe Massa until the checkered flag, the Spaniard quipped: "I love your sense of humor." His former Ferrari teammate passed him shortly thereafter.
ADVERTISEMENT - CONTINUE READING BELOW ↓
* Stat attack: Mercedes needed to outscore Ferrari by at least three points to take the constructors' title in Russia. After Kimi Raikkonen's penalty for causing a collision dropped him from P5 to P8, the points haul from this race was 25 points for Mercedes and 22 points for Ferrari--exactly a three-point difference. Job done.
* Top tweet: Romain Grosjean had a race-ending shunt that heavily damaged the Turn 3 barriers. How did the marshals fix up the mess? With duct tape, of course. Cue the MacGyver theme song:
October 11, 2015
.@RGrosjean gives his smash verdict: I crossed my arms, closed my eyes and thought this is going to hurt. pic.twitter.com/x3XS7ec5Ba

— Lotus F1 Team (@Lotus_F1Team) October 11, 2015
* Pirelli tire stats: Force India gambled on an early stop for Perez during the second safety-car period, and it paid off--but only just.
* Speaking of Pirelli: We thought the Stetsons for the 2012 US Grand Prix podium were a one-off, but out came the furry ushanka in Sochi. What's next--sombreros in Mexico?
"Am I wearing it right", says Lewis Hamilton http://t.co/L0V9wZ6dEt #SkyF1 pic.twitter.com/pnbxAwrVZQ

— Sky Sports F1 (@SkySportsF1) October 11, 2015
* English only, please: When there are multilingual drivers among the podium finishers, and they have to give statements in the language they know, here's what an English-speaking driver does to pass time:
ADVERTISEMENT - CONTINUE READING BELOW ↓
When they say "in your own language" and your language is English 🙈😂👀 #RussianGP #Vettel #Perez pic.twitter.com/qH968kkUVz

— Lewis Hamilton (@LewisHamilton) October 11, 2015
* Quote of the race: The hectic F1 schedule requires teams to pack up right after the races. In Russia, it posed a slight problem for Mercedes: "We had already packed the championship T-shirts into their boxes to ship them back home!" said head of motorsport Toto Wolff upon finding out that Raikkonen's post-race penalty meant Mercedes is now the constructors' champion for 2015. "Now of course, we are super happy about being forced to take them out--we wear them with great pride. It is a fantastic achievement for the team and all its employees in Brackley and Brixworth. Now the drivers' title is next on the agenda!"
* Special shout-out: Cheers to Murray Walker, who turned 92 on October 10th. Younger fans probably don't have a clue about who he is, but the more senior viewers among us remember a 'Murrayism' or two from this former British commentator.
Photos from Mercedes AMG Petronas, Scuderia Ferrari and Sahara Force India
ADVERTISEMENT - CONTINUE READING BELOW ↓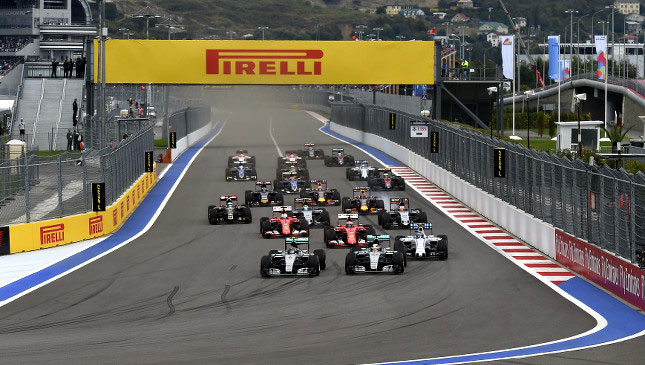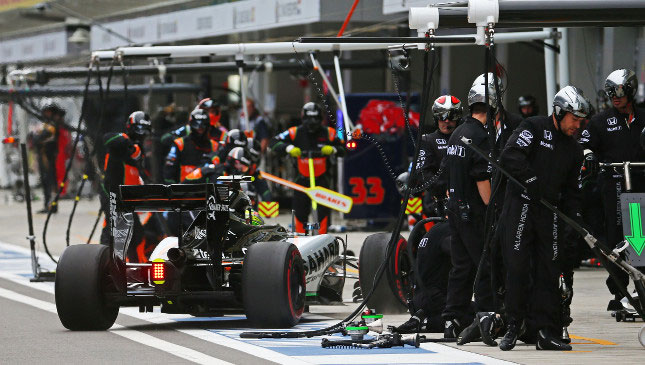 ADVERTISEMENT - CONTINUE READING BELOW ↓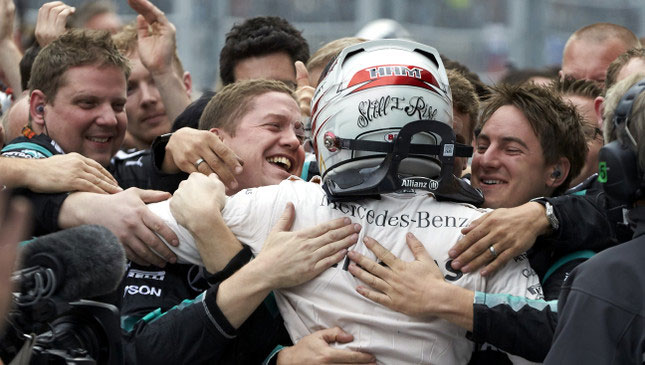 ADVERTISEMENT - CONTINUE READING BELOW ↓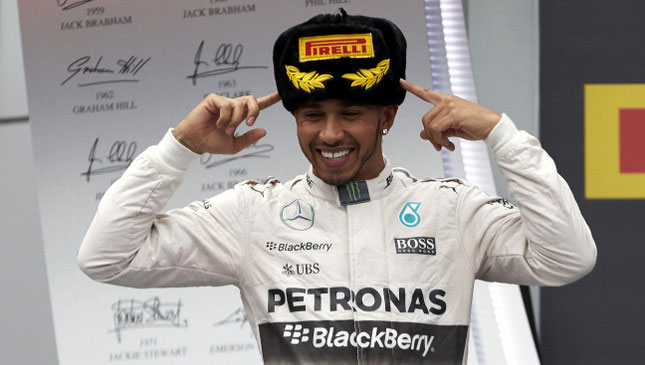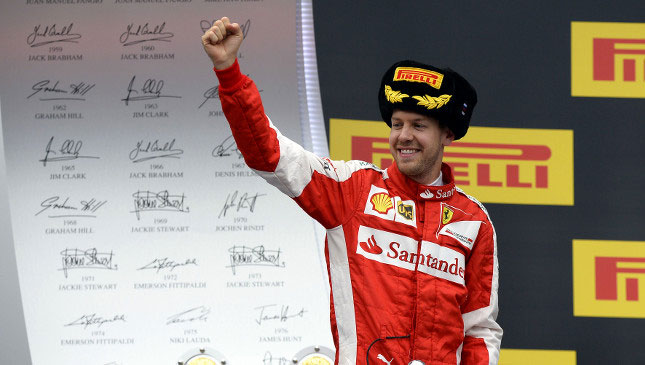 ADVERTISEMENT - CONTINUE READING BELOW ↓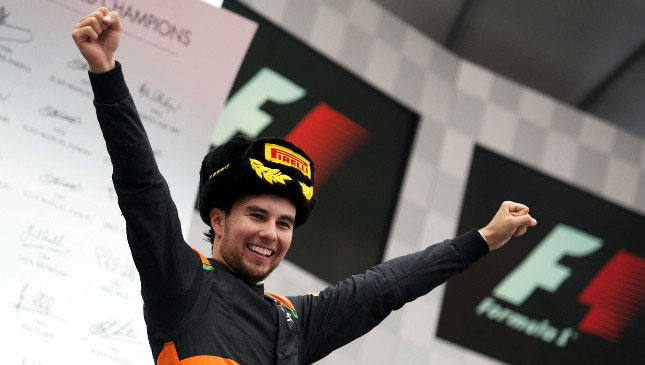 ADVERTISEMENT - CONTINUE READING BELOW ↓
Russian Grand Prix race results
Finishing position
Driver
Starting position
Time/Gap
1
L. Hamilton (Mercedes)
2
1hr 37:11.024
2
S. Vettel (Ferrari)
4
+5.953
3
S. Perez (Force India)
7
+28.918
4
F. Massa (Williams)
15
+38.831
5
D. Kvyat (Red Bull)
11
+47.566
6
F. Nasr (Sauber)
12
+56.508
7
P. Maldonado (Lotus)
14
+1:01.088
8
K. Raikkonen (Ferrari)*
5
+1:12.358
9
J. Button (McLaren)
13
+1:19.467
10
M. Verstappen (Toro Rosso)
9
+1:28.424
11
F. Alonso (McLaren)*
19
+1:31.210
12
V. Bottas (Williams)**
3
DNF
13
R. Merhi (Manor Marussia)
18
+1 lap
14
W. Stevens (Manor Marussia)
17
+2 laps
15
D. Ricciardo (Red Bull)**
10
DNF
DNF
C. Sainz (Toro Rosso)
20
DNF
R. Grosjean (Lotus)
8
DNF
N. Rosberg (Mercedes)
1
DNF
N. Hulkenberg (Force India)
6
DNF
M. Ericsson (Sauber)
16
*K. Raikkonen originally finished P5, but was given a 10-second stop-and-go penalty (converted post-race into a 30-second time penalty) for causing a collision. He was also given three penalty points on his superlicense. F. Alonso originally finished P10, but was given a 5-second time penalty for exceeding track limits.
**V. Bottas and D. Ricciardo did not finish the race, but were classified as finishers for completing over 90% of the race distance.
RUS
Driver standings
Team standings
Pos
Driver
Points
Team
Points
1
L. Hamilton
302
Mercedes
531
2
S. Vettel
236
Ferrari
359
3
N. Rosberg
229
Williams
220
4
K. Raikkonen
123
Red Bull
149
5
V. Bottas
111
Force India
92
6
F. Massa
109
Lotus
66
7
D. Kvyat
76
Toro Rosso
45
8
D. Ricciardo
73
Sauber
34
9
S. Perez
54
McLaren
19
10
R. Grosjean
44
Manor Marussia
0
11
N. Hulkenberg
38
12
M. Verstappen
33
13
F. Nasr
25
14
P. Maldonado
22
15
C. Sainz
12
16
F. Alonso
11
17
M. Ericsson
9
18
J. Button
8
19
R. Merhi
0
20
W. Stevens
0
21
A. Rossi
0