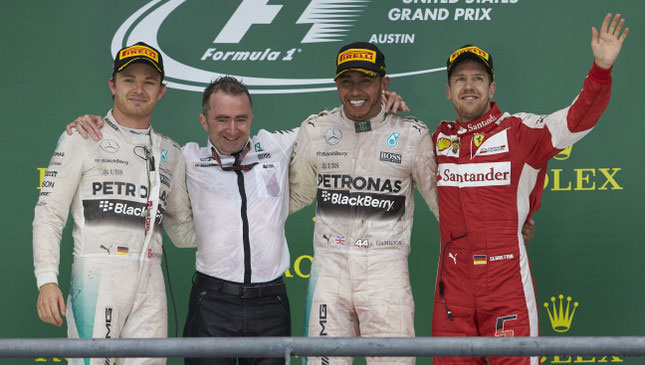 This tweet by Mercedes best sums up the crazy and eventful United States Grand Prix:
There are no words left for this race... #F1 #USGP

— MERCEDES AMG F1 (@MercedesAMGF1) October 25, 2015
If you put together all the incidents, overtakes, lead changes and strategy battles that happened over the course of two hours last Sunday, you really might run out of words. But it's our job to try, anyway.
To start with, qualifying was postponed from Saturday afternoon to Sunday morning (Texas time) because of extreme weather conditions--and even then, it never progressed beyond the second session as the deluge continued. The grid was thus based on the Q2 order, with Nico Rosberg edging out Lewis Hamilton in a bid to keep his championship chances alive. The title permutations, if you didn't get to see them, are here.
Red Bull's Daniel Kvyat and Daniel Ricciardo locked out the second row behind the Mercs. Notably out of position were Sebastian Vettel and Kimi Raikkonen, each given a 10-place grid penalty for the new engines fitted on their Ferraris, and Valtteri Bottas, whose Williams required a gearbox replacement.
ADVERTISEMENT - CONTINUE READING BELOW ↓
Come Sunday afternoon, the rain finally let up to allow for a start on intermediate tires. There had been no dry running up to this point, though, so the crossover point from inters to dry tires was going to be based mostly on guesstimates. The same goes for how quickly the dry compounds could be brought up to temperature, and how long they would last.
ADVERTISEMENT - CONTINUE READING BELOW ↓
Recommended Videos
Off the line, Hamilton made a better start and touched wheels with Rosberg as he elbowed his teammate out of the way around the first corner. This caused the German to be overtaken by Kvyat and Ricciardo, who slotted into P2 and P3, respectively. There's some more banging of wheels at the back, and a Virtual Safety Car period was triggered on Lap 5 to clear the debris from the collision of the two Saubers.
Rosberg wasted no time clearing the two Red Bulls when racing resumed three laps later, but then lost position again when Ricciardo cannily overtook him and Kvyat in one go as they squabbled for second place. Ricciardo then caught up with race leader Hamilton and passed him on Lap 15, easily pulling a gap over the struggling Mercedes. Soon after, Rosberg also got ahead of the defending champion. Hamilton had no choice but to swap his graining set of inters for soft tires on Lap 18.
ADVERTISEMENT - CONTINUE READING BELOW ↓
Unfortunately, this meant he ended up losing P3 to Kvyat, who pitted along with Ricciardo and Rosberg, one lap later. Raikkonen had even worse luck: He lost control of his car upon emerging from his stop, and the extensive damage caused him to join the growing list of retirees.
Red Bull lost its pace advantage on dry tires, and Ricciardo eventually had to concede to the Mercs, running third behind Rosberg and Hamilton. These two were separated by over 10 seconds almost midway through the race, but Marcus Ericsson's stalled car brought out the Safety Car on Lap 27 and wiped away the gap. Ferrari took this chance to put Vettel, who had climbed to P5, on the prime tires, with the goal of running the remaining distance on this set. When the action restarted on Lap 33, he was able to clear both Red Bulls within one tour of the circuit.
ADVERTISEMENT - CONTINUE READING BELOW ↓
Yet again, there was another interruption a handful of laps later courtesy of a Virtual Safety Car, which gave Rosberg, Kvyat and Ricciardo the opportunity to change tires without losing a lot of time in the pits. The effective top three at the end of the slow-down period was Hamilton, Vettel and Rosberg, with Rosberg almost certain to pass Vettel, and Hamilton yet to make his final stop.
The advantage had to be with Rosberg, surely? Well, the answer, as it had been for most of the season, was no. A fourth interruption came with the deployment of the Safety Car following Kvyat's massive shunt on Lap 43. Hamilton and Vettel made a trip to the pits once more for soft tires in preparation for a full-out sprint toward the finish line.
While that final Safety Car made catching up to Rosberg much easier for Hamilton, it was actually Rosberg who gave his teammate the greatest help all race long by running wide on Lap 49. And that was it--Hamilton took the lead and sealed the championship. As for Rosberg, the US GP was his 2015 in a nutshell: He never had the best of luck, but he also failed to convert opportunities by tripping over his own two feet during decisive moments.
ADVERTISEMENT - CONTINUE READING BELOW ↓
Clippings from the United States Grand Prix
* Fastest lap: N. Rosberg, 1:40.666 (Lap 49).
* Team radio talk: "That's the greatest moment of my life," Hamilton told his engineers after taking the checkered flag. His team also made several pointed comments about taking it easy with the engine and the gearbox, but you can't fault the guy for doing some burnouts, can you?
* Stat attack: Great Britain may be highly successful in producing F1 champs (15 in all), but according to Formula1.com, Hamilton is the first Brit to take back-to-back drivers' titles. He is now one of the sport's 10 three-time world champions, and moves third on the all-time wins list with 43 victories.
* Celebrity sighting: Sir Elton John was set to perform in Texas after the event, but he took the mic early by conducting the podium interviews.
* Top tweet: Harsh but true, this.
The world championship in a GIF. #F1 pic.twitter.com/cCifkSPL70

— Racing Humour (@racinghumour) October 25, 2015
Pirelli tire stats: For most of the weekend, it looked like Pirelli's medium and soft compounds were going to stay on their tire racks.
ADVERTISEMENT - CONTINUE READING BELOW ↓
Due to unrelenting wet weekend weather the #F1 #USGP came down to #PitStrategy and a bit of luck! #Cinturato #PZero pic.twitter.com/QjCTfs3iTI

— Pirelli Motorsport (@pirellisport) October 25, 2015
Quote of the race: After the race, Hamilton weighed in on equaling his childhood hero Ayrton Senna: "For Sebastian, being from the same country [as Michael Schumacher], I think that [seven titles] would be, for sure, I would imagine, Sebastian's target. As for me, as I said, it was always to get the three that Ayrton had. Of course, he wasn't from the same country as me, but he was the guy that inspired me as a youngster. Now I'm like...I don't know where it's going next. There is no one else I look up to, that I want to equal or emulate now. I'm just going to start...as I said one race ago or something like that, I feel like I've got the baton now for myself and Ayrton, and I'm going to carry it as far as I can, as strong as I can, and keep building and see where I take it."
ADVERTISEMENT - CONTINUE READING BELOW ↓
Photos from Mercedes AMG Petronas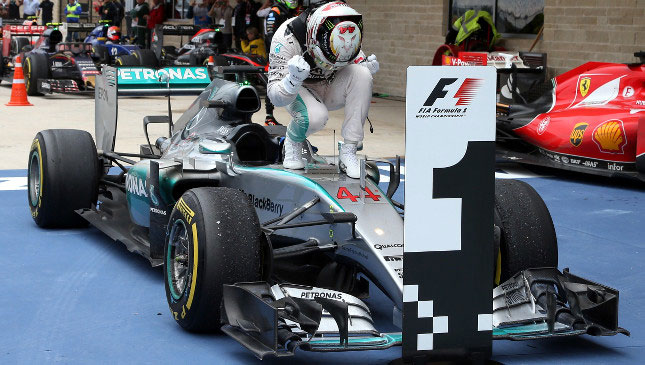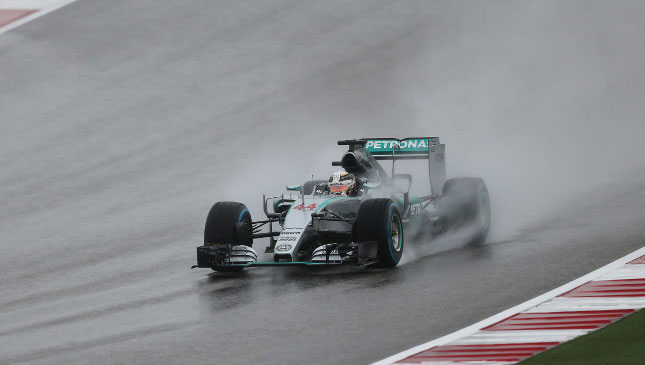 ADVERTISEMENT - CONTINUE READING BELOW ↓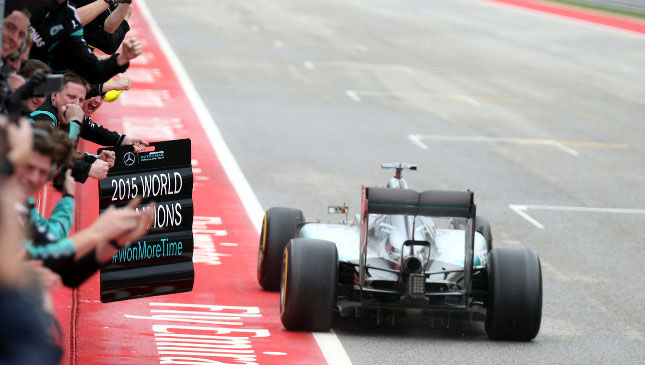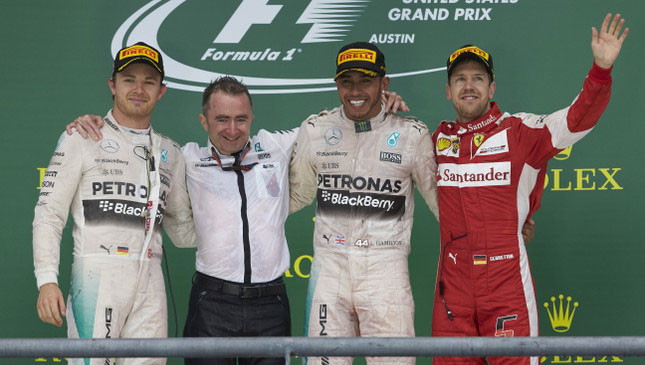 ADVERTISEMENT - CONTINUE READING BELOW ↓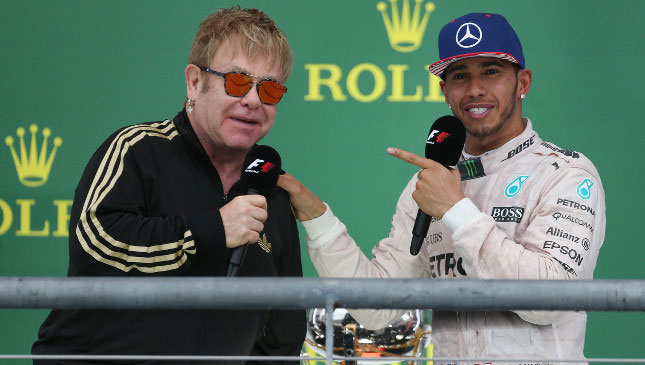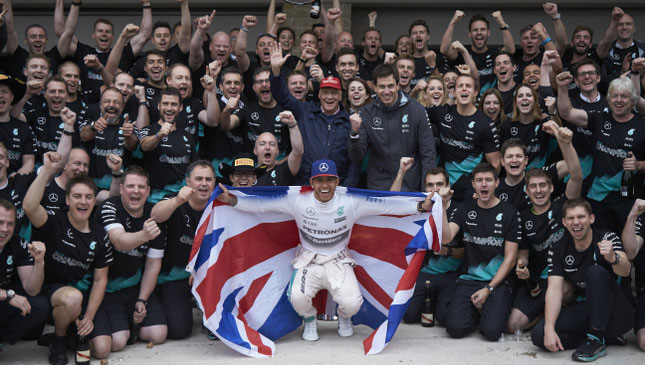 ADVERTISEMENT - CONTINUE READING BELOW ↓
United States Grand Prix race results
Finishing position
Driver
Starting position
Time/Gap
1
L. Hamilton (Mercedes)
2
1hr 50:52.703
2
N. Rosberg (Mercedes)
1
+2.850
3
S. Vettel (Ferrari)*
13
+3.381
4
M. Verstappen (Toro Rosso)
8
+22.359
5
S. Perez (Force India)
5
+24.413
6
J. Button (McLaren)
11
+28.058
7
C. Sainz (Toro Rosso)**
20
+30.619
8
P. Maldonado (Lotus)
12
+32.273
9
F. Nasr (Sauber)
15
+40.257
10
D. Ricciardo (Red Bull)
3
+53.371
11
F. Alonso (McLaren)
9
+54.816
12
A. Rossi (Manor Marussia)
17
+1:15.277
DNF
D. Kvyat (Red Bull)
4
DNF
N. Hulkenberg (Force India)
6
DNF
M. Ericsson (Sauber)
14
DNF
K. Raikkonen (Ferrari)*
18
DNF
F. Massa (Williams)
7
DNF
R. Grosjean (Lotus)
10
DNF
V. Bottas (Williams)*
16
DNF
W. Stevens (Manor Marussia)*
19
*S. Vettel and K. Raikkonen were given 10-place grid penalties for using additional power-unit elements. W. Stevens was given a 20-place grid penalty, also for using additional power-unit elements. V. Bottas was given a five-place grid penalty for a gearbox replacement.
**C. Sainz originally finished P6, but was given a five-second time penalty for speeding in the pit lane.
USA
Driver standings
Team standings
Pos
Driver
Points
Team
Points
1
L. Hamilton
327
Mercedes
574
2
N. Rosberg
251
Ferrari
374
3
S. Vettel
247
Williams
220
4
K. Raikkonen
123
Red Bull
150
5
V. Bottas
111
Force India
102
6
F. Massa
109
Lotus
70
7
D. Kvyat
76
Toro Rosso
63
8
D. Ricciardo
74
Sauber
36
9
S. Perez
64
McLaren
27
10
M. Verstappen
45
Manor Marussia
0
11
R. Grosjean
44
12
N. Hulkenberg
38
13
F. Nasr
27
14
P. Maldonado
26
15
C. Sainz
18
16
J. Button
16
17
F. Alonso
11
18
M. Ericsson
9
19
R. Merhi
0
20
A. Rossi
0
21
W. Stevens
0