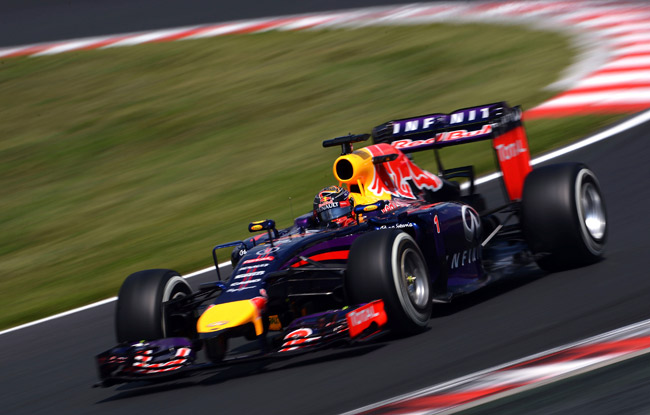 As early as preseason testing, Formula 1's team bosses have predicted that most of their drivers will be forced to take grid drops for exceeding their power-unit allocations. The rules governing their usage are about as complicated as the power units themselves--there's quite a bit of monitoring, supervising, and memo-writing involved. Let's do a quick overview.
Article 28 of the 2014 sporting regulations states that a power unit may be broken down into six components: internal combustion engine (ICE), turbocharger (TC), two motor-generator units (MGU-K and MGU-H), energy store (ES), and control electronics (CE). A driver is allocated five elements of each of these six components per season. Any combination of these elements may be used at any time. For instance, a driver may now be on his fourth ICE element, but only on his second ES element, as in the case of Sebastian Vettel. The chart below shows each driver's usage of the six components at the start of the Belgian GP weekend (happening at 8pm today).
The FIA attaches seals on all unused power-unit elements "to ensure that no significant moving parts can be rebuilt or replaced." After each event, additional seals are placed on power-unit elements that have been used at least once "to ensure that they cannot be run or dismantled between events."
Continue reading below ↓
Recommended Videos
Teams must request, in writing, for permission to remove these additional seals at the next event; if the additional seals are "damaged or removed" without the FIA's consent and supervision, the relevant elements may never be used again. Moreover, power-unit elements that have been cleared for use at an event "must remain within the team's designated garage area when not fitted to a car, and may not be started at any time during an event other than when fitted to a car eligible to participate in the event."
By the letter of the law, fresh and used power-unit elements may be combined tactically--it is common to hear during Friday free-practice commentary that a car is running a power-unit element that will likely not be used in the race. This implies that a lower-mileage counterpart may be fitted in overnight and used for the remainder of the GP weekend.
Once the cars are in parc fermé, however, changes to them cannot be made freely. The parc fermé period lasts from the time a car first leaves the pit lane for qualifying until the start of the race. Article 34.2 of the F1 sporting regulations lists the work that may be carried out under parc fermé: These mostly involve basic changes to maintain a car's aesthetic appearance and basic functions, improve the driver's comfort, and ensure safety when there is a change in climactic conditions. Again, these changes may only be made with the FIA's consent and supervision.
Naturally, there are mishaps that may occur during parc fermé. Lewis Hamilton's fiery qualifying at the Hungarian GP is an example. In his case, the power-unit elements replaced under parc fermé "may not be used again during any future qualifying session or race with the exception of the last event of the championship."
Upon the use of a sixth element of any of the six components, a cocktail of penalties comes into play:
| | |
| --- | --- |
| Use of a 6th complete power unit | Pit-lane start |
| First time a sixth element of any power-unit component is used | 10-place grid penalty |
| First time a sixth element of the other power-unit components is used | 5-place grid penalty |
| First time a seventh element of any power-unit components is used | 10-place grid penalty |
| First time a seventh element of the other power-unit components is used | 5-place grid penalty |
The same applies every time an element is used for the first time. The grid drops resulting from excess power-unit components usage may be applied over the course of two events if a driver does not qualify high enough to serve the penalty in one go.
Finally, "if a driver is replaced at any time during the championship season, his replacement will be deemed to be the original driver for the purposes of assessing power unit usage." So, Andre Lotterer will be using Kamui Kobayashi's Caterham allocation for the Belgian GP.
| | | | | | | | |
| --- | --- | --- | --- | --- | --- | --- | --- |
| Driver | Team | ICE | TC | MGU-K | MGU-H | ES | CE |
| S. Vettel | Red Bull | 4 | 4 | 4 | 4 | 2 | 4 |
| D. Ricciardo | Red Bull | 4 | 3 | 4 | 3 | 2 | 3 |
| L. Hamilton | Mercedes | 3 | 3 | 3 | 3 | 3 | 3 |
| N. Rosberg | Mercedes | 3 | 3 | 3 | 3 | 2 | 3 |
| F. Alonso | Ferrari | 3 | 3 | 3 | 3 | 3 | 4 |
| K. Raikkonen | Ferrari | 3 | 3 | 3 | 4 | 4 | 3 |
| R. Grosjean | Lotus | 4 | 5 | 4 | 4 | 2 | 3 |
| P. Maldonado | Lotus | 5 | 5 | 5 | 5 | 3 | 3 |
| J. Button | McLaren | 3 | 3 | 3 | 3 | 3 | 3 |
| K. Magnussen | McLaren | 3 | 3 | 3 | 3 | 3 | 3 |
| N. Hulkenberg | Force India | 3 | 3 | 3 | 3 | 2 | 2 |
| S. Perez | Force India | 3 | 3 | 3 | 3 | 2 | 2 |
| A. Sutil | Sauber | 4 | 4 | 4 | 4 | 4 | 3 |
| E. Gutierrez | Sauber | 3 | 3 | 3 | 3 | 3 | 4 |
| J. Vergne | Toro Rosso | 4 | 4 | 5 | 4 | 3 | 3 |
| D. Kvyat | Toro Rosso | 5 | 4 | 5 | 3 | 2 | 2 |
| F. Massa | Williams | 3 | 3 | 3 | 3 | 2 | 3 |
| V. Bottas | Williams | 3 | 3 | 3 | 3 | 3 | 2 |
| J. Bianchi | Marussia | 4 | 4 | 3 | 4 | 2 | 4 |
| M. Chilton | Marussia | 4 | 4 | 4 | 4 | 3 | 4 |
| A. Lotterer* | Caterham | 3 | 3 | 3 | 3 | 3 | 4 |
| M. Ericsson | Caterham | 4 | 4 | 3 | 3 | 2 | 3 |
Belgian Grand Prix fast facts
Circuit
Circuit de Spa-Francorchamps
Lap distance
7.004km
Race distance
308.052km (44 laps)
Lap record
1:47.263, S. Vettel (Red Bull, 2009)
2013 Belgian Grand Prix flashback
Winner
S. Vettel (Red Bull)
Second place
F. Alonso (Ferrari)
Third place
L. Hamilton (Mercedes)
Pole position
2:01.012, L. Hamilton (Mercedes)
Fastest lap
1:50.756 S. Vettel (Red Bull)
Dry-tire allocation
Hard (prime), medium (option)
2014 Belgian Grand Prix preview and schedule
Dry-tire allocation
Medium (prime), soft (option)
Weather forecast
Wet (qualifying); clear (race)
Free practice 1
August 22, 4pm to 5:30pm
Free practice 2
August 22, 8pm to 9:30pm
Free practice 3
August 23, 5pm to 6pm
Qualifying
August 23, 8pm
Race
August 24, 8pm
*Schedule information is in Philippine time