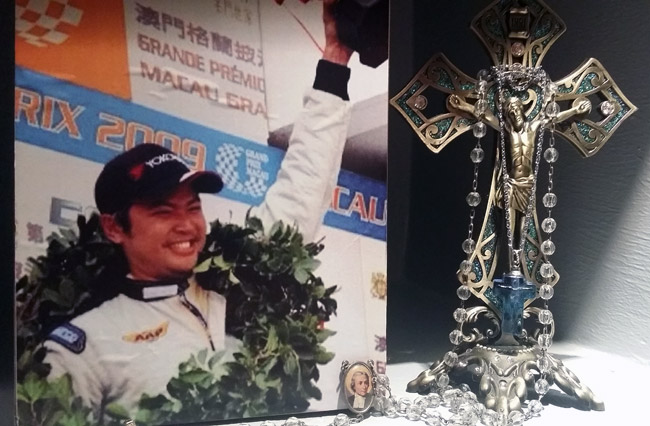 Just like any family that lost a loved one, the kin of the late race car driver Enzo Pastor are doing their best to remember him this All Souls' Day. Pastor was shot dead in Quezon City on June 12 this year, and this is the first time his family will have to be with him in spirit on November 2, when Catholics honor the souls of the dead.
Unfortunately, the family doesn't really have a place to visit to do this because Enzo was cremated, and most of his ashes is with his wife Dalia Guerrero-Pastor, who remains a suspect in his murder and is nowhere to be found. So how is his family--meaning his parents and his siblings--going to remember him this weekend?
Good thing the family thought of something. In an e-mail sent to TopGear.com.ph, the family shared these photos with the following statement:
The urn with his picture is similar to the urn where Enzo's remains are kept, which is still in the house of Dalia's parents. The cross where the blue necklace hangs containing a sliver of Enzo's ashes is a second-class relic. It was blessed by the first-class relics of Mama Mary's mantle and the hair of Pope John Paul II.
Continue reading below ↓
Recommended Videos
The Pastor family is happy that we were able to get a niche for Enzo despite not having his complete remains, so that we at least have some place to visit him this All Souls' Day. Our prayer is that the Guerrero family find it in their hearts to give Enzo's ashes to be placed in a holy and sacred burial place where we can all commemorate him, so that his remains can also be finally put to rest.
The family then placed "Enzo's largest trophy as 2002 Asian Formula Renault champion" below his crypt.
Well, we can only pray for healing and peace of mind for the Pastor family. May they get the justice they deserve.