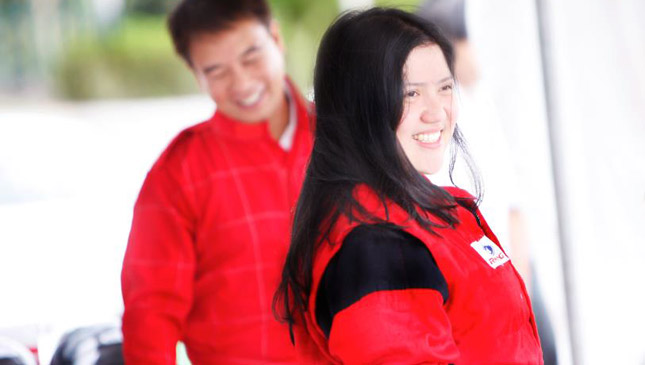 The true measure of a life well lived, if you ask us, is not when you're having fun, but rather when you manage to courageously soldier on in spite of a major setback. Like a debilitating disease, for instance. Many people afflicted by a life-changing sickness choose to wallow in misery, refusing to pick up the pieces and turning into sullen individuals who wake up each morning acting as if the world has ceased to spin.
But never mind having a crippling illness. Imagine being a woman whose child-bearing capability has been unceremoniously taken away.
That's the story of Kathy Villar, a 36-year-old managing director of an advertising agency, who lost several parts of her reproductive system seven months ago.
"I've had 11 major surgeries already," Villar told TopGear.com.ph. "In August last year, on my birthday, I was advised that I needed to give up my ovaries, uterus, cervix and related organs. I cannot have a baby anymore, in other words."
In case you're wondering, Kathy doesn't have a kid.
We won't pretend to know the female psyche very well, but we'd like to think it's safe to say that the prospect of not being able to bear a child should be pretty devastating to most women. How did Kathy cope?
Continue reading below ↓
Recommended Videos
On the surface, it looks like someone like her could easily bounce back from a personal tragedy like this. And that's because she has five passions that could help take her mind off the pain: God ("I anchor on Him"); creativity ("I run an ad company"); explorations ("I work so I can travel"); altruism ("I devote one day in a month to advocacy work"); and extreme sports ("I once ran a marathon").
She turned to cars instead. Or driving cars, to be specific. Or driving cars fast, to be precise.
"Instead of feeling bad about my reality, I decided to pursue another passion--drifting," she shared. "I am currently training to compete locally."
How did it start?
"I initially attended Tuason Racing School for circuit racing, but I found circuit racing too precise and too quick for me," Villar recounted. "I couldn't do the double-down and blip the throttle and whatever all in a one-day session. Then my friend told me to try drifting. I was introduced to Ian King. I started with an informal class for P7,000. I drove a Cefiro. The training was held at FTI in Taguig. Unfortunately, when the property was bought by Ayala, Ian stopped teaching."
Already hooked, Kathy, who had previously enjoyed karting at the now-defunct Manila Speedzone in Bonifacio Global City, didn't let this stop her from pursuing her newfound passion.
"Paolo Arespacochaga, my old coach in Ian's classes, said we could do classes at Megatent in Libis," she narrated. "He suggested borrowing a car from a shop, and then forming a group of four to five students. That's how the sessions started. When Megatent became too small for me, I transferred my training to Clark International Speedway with a personal instructor. The others who have coached me in drifting are David Feliciano and Audel Sison."
If you bump into Kathy on the road, you may not readily sense her addiction to drifting. She drives a non-turbo Subaru Forester, for one, and her appearance is that of someone who looks like she'd smoke you in the conference room and not on the racetrack. But she's so into her chosen motorsport that she even purchased a 300hp Nissan Silvia (S14) from another drifter in December. "I realized it would come out cheaper if I drove my own car, and I really wanted to take training seriously."
Her goal right now is to compete in either Lateral Drift or the Pacific Drift Championship. She also dreams of one day drifting a Nissan GT-R (R35).
"Behind the wheel, I am beyond pain and fear," she proclaimed. "I feel strong and capable. Drifting is more than a hobby and passion. It is my declaration to the world--that we do not have an excuse. We are all blessed and equipped. We can achieve our dreams or live our passion. Eleven surgeries didn't stop me. I wonder what could be a more plausible excuse."
Wow. What's your excuse?