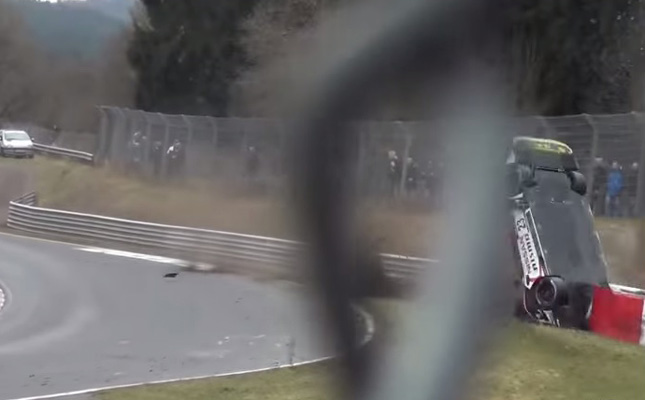 At the very first race of the VLN endurance series held at the Nurburgring Nordscleife circuit on March 28, the Nissan GT-R race car driven by 2011 GT Academy winner Jann Mardenborough left the track and flew into the spectator area where it crash-landed on its roof. Although Mardenborough was able to get out of the car, several spectators were injured, with one person reportedly succumbing to the sustained injuries.
VLN stands for Veranstaltergemeinschaft Langstreckenpokal Nurburgring, or Association of Nurburgring Endurance Cup Organizers.
Here is Nissan's statement in full:
During Saturday's 'VLN 1' race at the Nurburgring Nordschleife, a serious incident occurred involving the No.23 Nissan.
The car is reported to have left the track at the 'Flugplatz' section and vaulted the catch fencing, landing on its roof in a spectator area.
Several spectators were injured in the incident, and despite immediate efforts one of them succumbed to the injuries. The others have been taken immediately to hospital for care.
The driver, Jann Mardenborough, got out of the car and, after initial checks in the circuit Medical Center, has been taken to hospital for further routine checks.
The events on Saturday have been a tragedy. We are all deeply shocked and saddened by these events, and our immediate thoughts go to the deceased, those injured and their families and friends.
The team is fully cooperating with the race organizers to conduct an immediate and thorough investigation into this incident.
Below is a video showing the very moment the car left the track.
ADVERTISEMENT - CONTINUE READING BELOW ↓
If you're viewing this on a mobile device and can't see the video, please click here.
ADVERTISEMENT - CONTINUE READING BELOW ↓
Recommended Videos