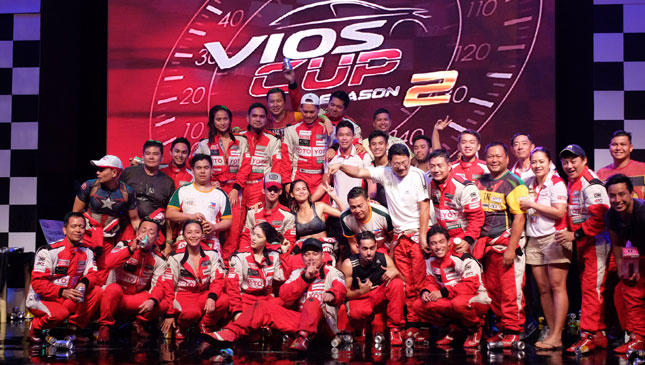 The last race of the 2015 Toyota Vios Cup was literally too close to call. The top racers gave it their all, and in the end bumpers were smashed, talent was tested, and victors emerged. Well, sort of.
The venue was the Subic Bay International Airport, where the runway was transformed by Toyota Motor Philippines into a racetrack. The circuit this time was long and flowing, and not the tight courses like the previous venues in Cebu and the Mall of Asia complex. Racer Joyce Pring, awarded the most improved celebrity driver in the last leg, told us before the race that she didn't expect to reach first gear because of the "open" track.
Maybe just as important for the spectators, the Subic Bay course was the most picturesque. The mountains and the ocean framed the colorful Vios cars jostling for motorsport glory--or just having fun. One thing we like to do during the races is walk around the pit area. The spirit of competition is definitely there, but so is the waku-doki vibe. It feels like everyone is just having a good time.
The racing gods must have also been watching, because the race was blessed with good weather, although it was definitely hot around noontime. But by the time the afternoon deepened into a golden amber, there was a slight breeze intermingled with the faint scent of rubber and gasoline.
Continue reading below ↓
Recommended Videos
Perhaps the greatest accomplishment of TMP is that its Vios Cup felt like a real race, both in atmosphere and in competitive spirit. It is a premise as simple as it is difficult to do. In this last leg, you could feel the leading drivers practically willing their Vios cars to be ahead. Allan Uy, Raymond Ronquillo and Dominic Ochoa gave us a good show, as they gave it their all, displaying talent and courage in both races.
And that's why you won't be seeing the usual tables at the bottom, because we were only given incomplete results. While some winners were announced during the evening's awarding ceremony, there were penalties and infractions that had to be settled by the governing bodies, and these could affect the tallies.
Andres Calma, the son of PBA legend Hector Calma, ultimately became this year's Vios Cup champion. That means another young gun has been crowned winner, following in the footsteps of last year's champ, teenager Luis Gono.
In the Celebrity class, Sam YG was dominant again, cruising to an easy victory over close rivals Jinno Rufino and Phoemela Baranda.
Here are some of the highlights of Leg 4's awarding ceremony.
Photos by Drei Laurel