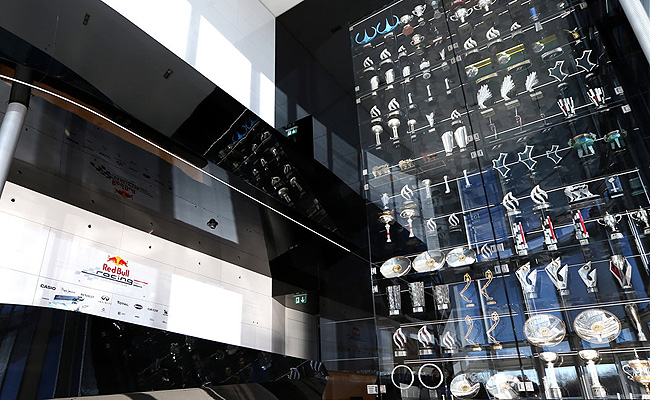 The year 2014 has really turned out to be a bad one for Red Bull Racing. Not only have they lost this season's constructors' title to Mercedes AMG Petronas, they've now also lost over 60 trophies to thieves.
According to the racing outfit, just after midnight of December 6, two vehicles--a silver 4x4 and a dark-colored Mercedes-Benz wagon--were involved in the break-in at its Milton Keynes headquarters, with one driving through the front entrance "to gain access to the premises."
Once inside, six men reportedly stole over 60 of the team's trophies. Fortunately, none of the team's night staffers were physically harmed during the incident.
"We are obviously devastated by this serious factory break-in, which saw offenders drive a vehicle through our front entrance and steal more than 60 trophies that took years and hard work to accumulate," said Red Bull Racing team principal Christian Horner. "Beyond the aggressive nature of this break-in, we are perplexed why anyone would take these trophies. The value to the team is, of course, extraordinarily high due to the sheer hard work and effort that went into winning each and every one. But their intrinsic value is low; they would be of little benefit to those outside of the team and, in addition to that, many of the trophies on display were replicas. The actions of these men mean it's likely that we will have to make our site less accessible in the future, which will be unfair to the hundreds of fans that travel to visit our factory each year to see our trophies and our Formula 1 cars."
Continue reading below ↓
Recommended Videos
Coincidentally, ex-Red Bull driver and four-time champion Sebastian Vettel paid one last visit to the team's headquarters a few days before the break-in. Hmm...