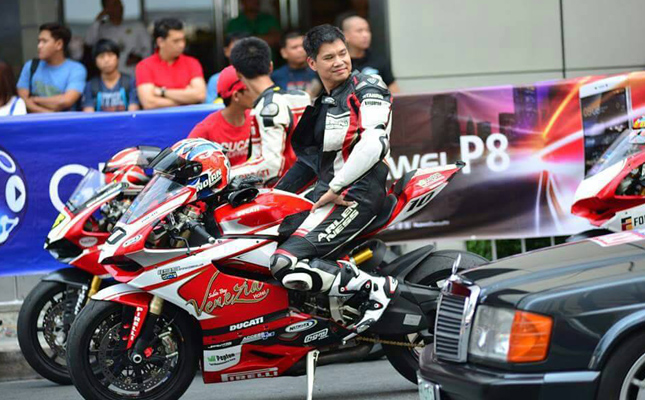 The guy you see above is John Defensor. He is a champion superbike rider, and he was part of the Globe Slipstream 2.0 event two weeks ago. Over this past weekend, he participated in the Ducati Cup and the Philippine Superbike Championship, where he placed third and first runner-up, respectively. Two podium finishes during one race weekend is certainly not a bad haul.
However, there was an interesting side incident that happened to Defensor during race day. At Clark International Speedway, he collided with a maya bird at 280kph while racing his Ducati 1199 Panigale. As most of us know, that bird species isn't large at all, but considering Defensor's velocity, the impact was something else.
According to Defensor, he hit the bird on the front straight of the track with his shoulder. The titanium armor of his race suit absorbed the considerable force, but the impact disintegrated the bird like a bug on a windshield. No visible solid parts remained of the avian, only guts and other matter scattered on his race suit and motorcycle. There was also a very noticeable bruise on his body after the race. "Para akong sinapak," is how Defensor described the moment of impact.
With his permission, we're sharing Defensor's photos during the weekend, including the mark he sustained. We didn't ask for photos of the deceased bird, because we're not that morbid.
Continue reading below ↓
Recommended Videos
The lesson learned here is what we've repeated ad nauseam: Get your speed fix on the track, and always wear the right safety gear.
Photos from John Defensor's Facebook page