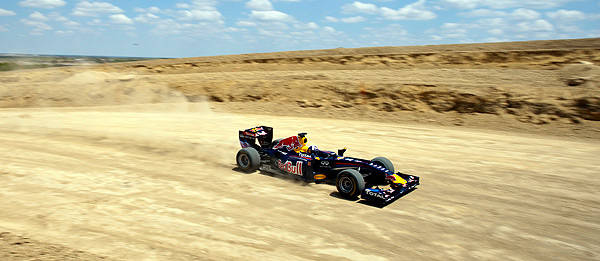 Red Bull was in the United States of America recently and besides letting someone named Tom Cruise behind the wheel of its Formula 1 car, the team also visited Austin, Texas, where the latest of the series' tracks, the Circuit of the Americas, is under construction.
Apparently, Red Bull couldn't just capture on video former Red Bull Racing driver David Coulthard driving the Formula 1 showcar on the city streets of Austin and on the dirt track where the asphalt will be laid out for the Circuit of the Americas. The team had to make a whole production of everything, adding cowboys on horseback, on ATVs, on a pickup and even a helicopter as they chase Coulthard driving away from a ranch in the Formula 1 showcar. To make everything more dramatic, Red Bull threw in lots of slow-motion shots to the entire package.
From the outskirts of Austin, Coulthard drives through the seemingly abandoned streets of the city of Austin before heading out to a large, landscaped tract of land where the Circuit of the Americas is currently being constructed.
Since Coulthard proved it's actually possible to drive a Formula 1 car on dirt at spped, maybe it's not really that hard to come up with a multi-discipline race like the World Grand Prix in Cars 2 where stock cars go up against Formula 1 cars, Le Mans race cars, WRC rally cars and GT cars.
Continue reading below ↓
Recommended Videos