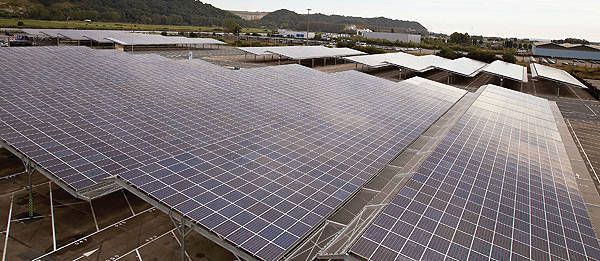 Renault is one of the world's largest carmakers. Recently, it also became the carmaker with the world's largest photovoltaic system when it unveiled 400,000sqm of photovoltaic panels at six of its production plants in France.
The solar panels are mounted at the plants' delivery and shipping centers and employee parking areas. These solar panels--designed to resist impact and hail--develop a total power output of 59MW and are able to produce 52,600MWh of electricity per year. That's enough power to provide for a town of 15,000 people.
Another benefit of the use of such a large number of solar panels is that this will reportedly result in a 200-ton reduction in carbon dioxide emitted annually by electric engine production, which is the equivalent of 550 round-the-world trips by an internal-combustion vehicle emitting an average 100 g/km of the harmful gas or a fleet of roughly 1,500 vehicles that travel 15,000km a year each.
Renault isn't stopping with the plants in its home market as it will also set up nearly 100,000sqm of photovoltaic panels in its Valladolid and Palencia factories in Spain. Feasibility studies are also under way to put up similar systems in Renault's Slovenia, Morocco, Brazil, Colombia, Chile and Romania plants, while 300,000sqm of solar panels are ready to be deployed in its Busan, South Korea, plant in December 2012.
Continue reading below ↓
Recommended Videos